Now that you've created your curated newsletter in FeedOtter, you can personalize it with custom fields. In this tutorial, I'll show you how custom fields in your curated newsletter will work and how you can use them in the FeedOtter interface.
NOTE: We will be covering the fifth video in this playlist for this tutorial.
Custom Fields in FeedOtter
In our curated newsletter templates we offer customization for section titles and an introductory paragraph. You can access these by going into your curated newsletter and clicking the Custom tab in the left column.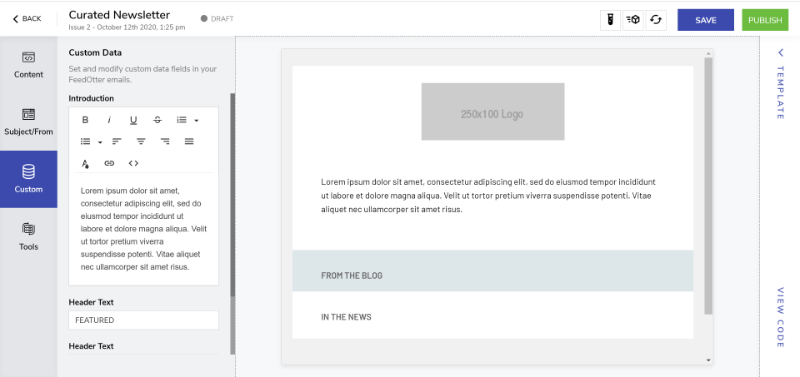 This allows you to interact with the built-in newsletter template and make quick changes between issues and personalize or tweak key components of the email.
NOTE: Custom fields are not intended to be used for changing the structure of your HTML curated email newsletter, including adding buttons, reordering the email contents, etc. We do not recommend using custom fields for these purposes, but we encourage using them for personalizing parts of the email that can change between issues.
Adding Custom Fields
You can also create your own custom template and add custom fields that are compatible with FeedOtter. Currently, we offer custom tokens for fields including text, html block, image, and url link. 
You can see this in action by click Templates > Template Library and choose the Development tag. Then, click the Custom Field Usage template.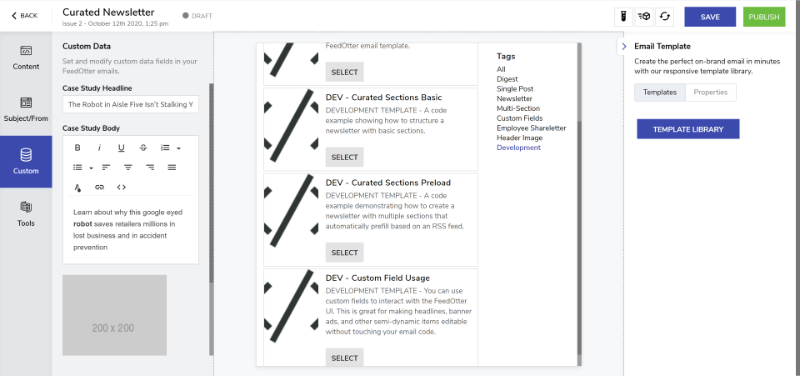 Check out our support page to see the custom field tokens you can add to your personal curated newsletter template.
Happy Emailing!
Thank you for walking through these tutorials and learning more about our curated newsletter builder. If you're having issues or questions, feel free to reach out to the FeedOtter team at [email protected]. We're happy to help.