RSS Emails are the main purpose for FeedOtter's creation. An RSS Email pulls content from your RSS feed to send to your clients in an email. Most people use RSS Email to send blog content, news and alerts, and other content on your website. Many people use RSS Email to show clients and potential customers you're content and what's going on with your company as well as bring them back to your website and your product.
Benefits
There are many benefits to using RSS Email for your company's content. Here's just a few:
Showing clients your content
Sending notifications to your customers
Sending product information and updates to customers
RSS allows you to embed your content on other sites, like creating emails in FeedOtter.
Allows one-time readers of one post to become regular customers who engage with your brand and content on a regular basis.
With FeedOtter, many people use their RSS email to send out and track emails through Marketo, Pardot, Eloqua and more.
RSS Email is most commonly used to send out blog content, but also is used to sent out events, webinars, resources, product information, etc. The RSS Emails allow you to create more traffic back to your website and share content with customers.
Subscribe to Email
If you don't already, we highly recommend putting an email subscription form on your website to send content to customers. This is an easy way to gain new customers and keep customers engaged with your content and your brand. Here's some examples of other companies blog subscription forms on their site: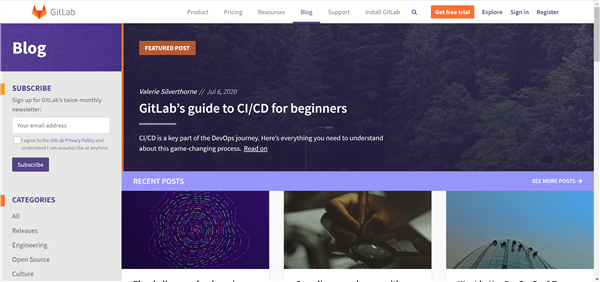 RSS Email is beneficial for companies and customers in many ways. Start sending your RSS Email for more traffic to your website with a free trial account in FeedOtter.