How FeedOtter Schedules and Sends Automated RSS Email
FeedOtter uses Automated RSS Email to streamline the process of creating blog content emails. When setting up your Automated RSS Email there are many scheduling options that you can choose.
Scheduled Time vs. 'When A New Post Is Published' Sends
The default option in FeedOtter is the Scheduled Time, Weekly RSS Blog Email. You can easily change the frequency to daily/monthly/etc. but this option allows more control with how often and exactly when emails will be sent to your clients. Scheduled Emails will be created and scheduled based on the time you schedule emails to be sent out and the number of new content posts you would like shown in each email. The Scheduled option will also allow you to review the automated email before sending it and choose a time that is best for your clients.
The other option is the Automated Alert/Notification Email, sending 'When A New Post Is Published.' This option is mainly used for breaking news or alerts that need to be sent out immediately. When choosing this option, FeedOtter will look at your RSS feed, and as soon as there is new content an email will be sent out to your clients.
Best Practices for Weekly Digest and Single Post Emails
In general, we recommend using the Scheduled/Recurring RSS Blog Email option for weekly digests and single post emails because it allows more control over when your emails are sent out and helps your email sends stay consistent with when your client will receive them.
How FeedOtter Sends Content (New vs. Old)
FeedOtter sends automated emails when there is new content in your RSS feed at your scheduled time. If you are using the scheduled option FeedOtter will only send the email if there is new content from the last time the email was sent by default.
In order to determine "new" content, FeedOtter looks at the Published Date (pubDate) in the RSS feed.

If the published date is after the last email campaign was sent, it will be seen as new content by FeedOtter and be sent with the next email campaign.
Scheduling Settings
When setting up your Automated Email there are a few advanced scheduling settings to look for. These next steps will walk you through our setup for scheduling automated emails.
Create New Automated Email Campaign > Type Name of Campaign > Select Email Provider. Click Next.
Choose the frequency of the email sent. Here, we chose Weekly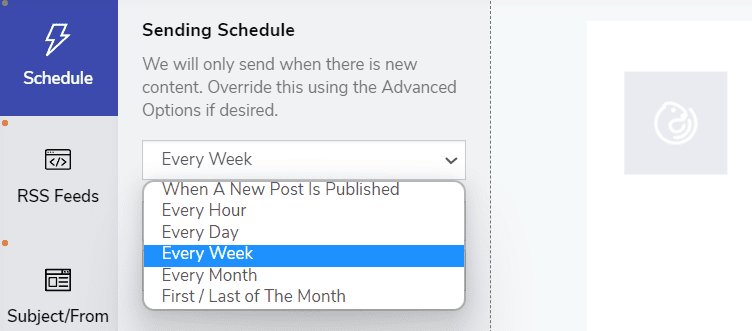 3. Once you choose your interval, you can then choose the day of the week and time. Also, ensure you are in the correct time zone when choosing the time of sending.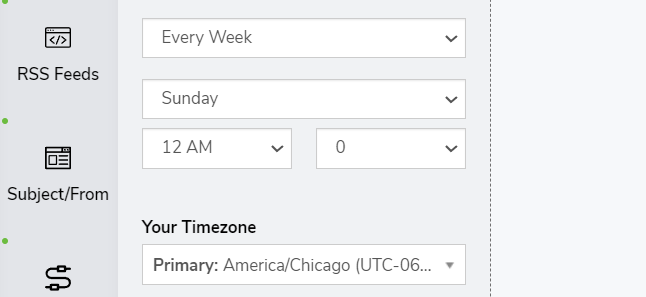 4. If choosing Monthly, you will select the day of the month and time. Here, you also have the option to choose Roll weekend sends to Friday/Monday which means if the date you've chosen falls on a weekend, the email will wait to send until the next business day.5.  Now that you've chosen the frequency of email sends and time, you can now look at the Show Advanced Options button under the Save button. This shows the option to send only new content or allow old content in your emails. The default in FeedOtter is to only send an email when there is new content from the last email sent. You can override this option by clicking Allow Old Content. Then FeedOtter will send the number of posts specified, regardless of when it was published.
5. Next, look at the Intervals option. This will pull down an option to skip intervals of time.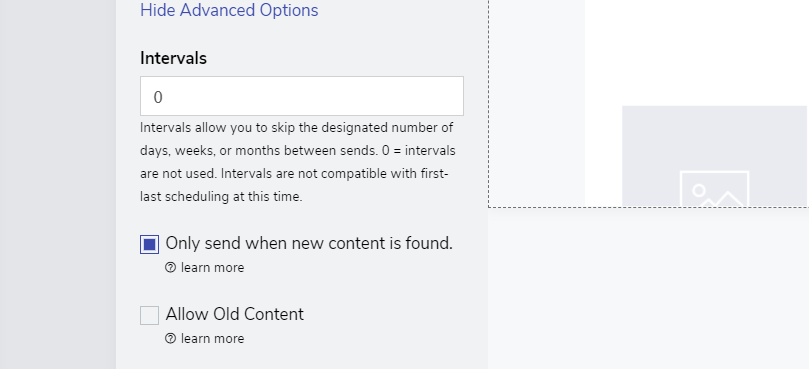 The intervals option allows you to skip a designated number of days, weeks, or months (depending on which you chose) between email sends. A "0" means there will be no time skipped and it will send as scheduled.
For example, if you chose to send every week, an interval of "2" will have FeedOtter skip two weeks in between each email sent. The interval also relies on the frequency set. If you were to choose a monthly email send, intervals will skip by months rather than weeks and vice versa.
Now you've finished scheduling your Automated Email and are ready to finish creating the Automated Email and sending it out to your clients.
Monitoring and Reports from FeedOtter
Once you have your Automated Email setup and running, FeedOtter monitors your RSS feed for new content and provides a report of when it searches your RSS feed and sends. Next to your campaign block, FeedOtter will also show the campaign's status to show when the last email sent was and when the next one will be.
To view this report, go to your campaign block and click Options > View History.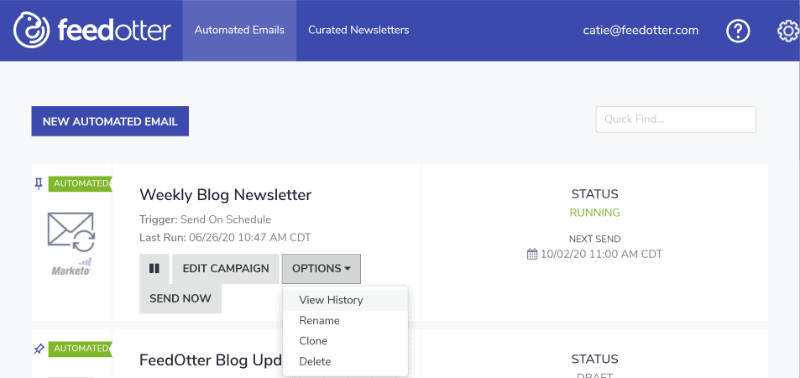 This will pop up a report of each email sent with FeedOtter.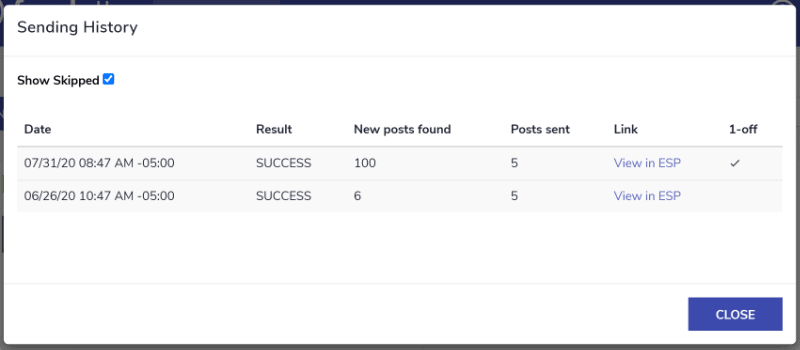 The report shows (in order from left to right) the Date and Time, the Result, New posts found, Posts, Sent Link, and One-off.
The Date and Time shows when FeedOtter searched for new content and the Result will show whether FeedOtter had an issue searching your RSS feed or not. This column will say "Success" is FeedOtter was successful and "Problem" if there is an issue. You can also expand the "Problem" to see why FeedOtter had an issue.
The next columns show the amount of new content that was found and the number of posts that were sent by FeedOtter. The link will take you to the email campaign shown by your Email Provider and the One Off column will either have a checkmark or be blank to display whether this was a one-off email sent or not.
What happens if something looks wrong?
If there is an issue with the scheduling or sending of an email from FeedOtter, always check the History report to see what the issue is there. Most commonly issues arise with the RSS feed URL being broken or removed and the RSS feed needs to be validated.
If there is an issue with new content not shown in the email that you thought should be there, check the pubDate in your RSS feed and the History report in FeedOtter. FeedOtter may have scanned your RSS feed before the content was published and will need to re-scan or refresh the email campaign, or you may need to override the scheduled send with our SendNow function.
Re-sending with SendNow Function
If wanting to send an email immediately rather than waiting for the scheduled time, you can click SendNow on the campaign block.

This will take you to your email and ask you to fill in the Subject, Pre-header text, and amount of posts to send. You can then preview the email and send it immediately by clicking Run this Email.
Still, Having Trouble? Contact us!
As always, FeedOtter is happy to help with any issues you may have. To submit a help request in your FeedOtter Account, click the Question Mark icon in the top-left corner.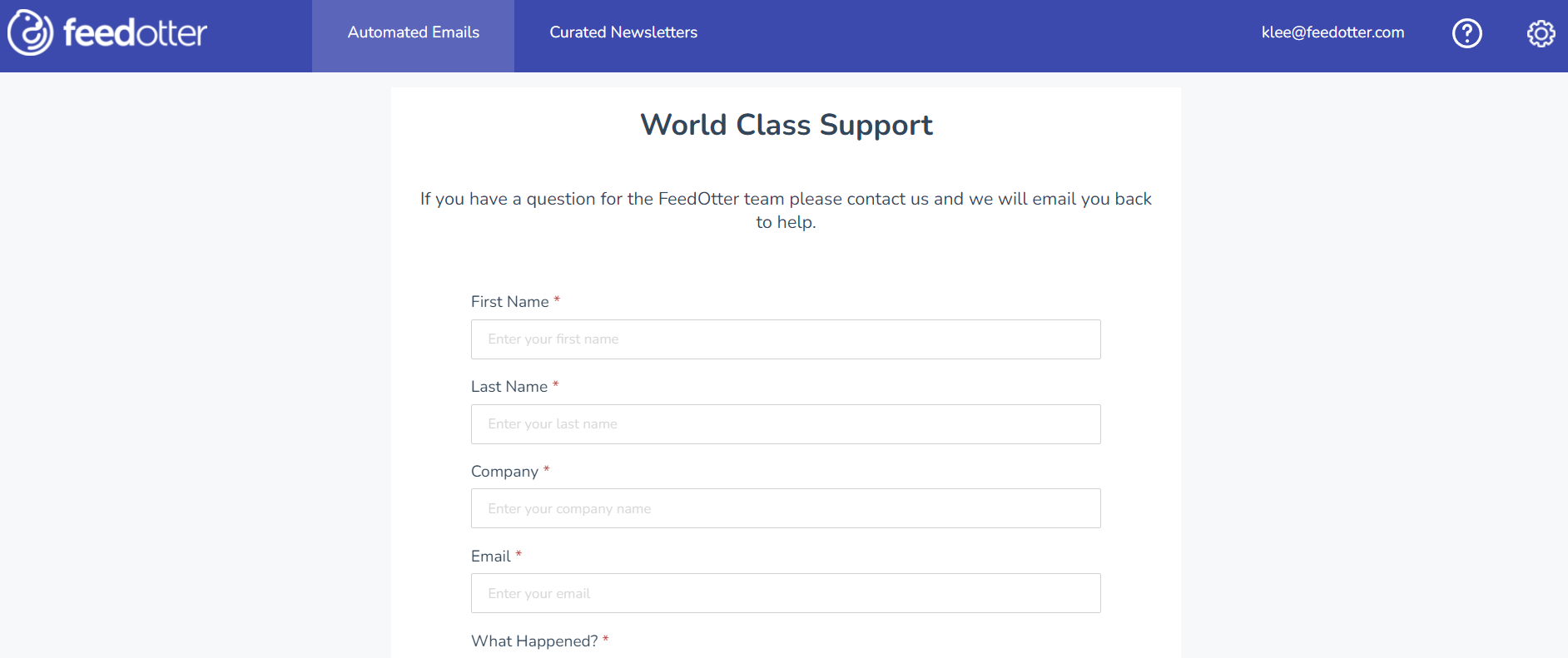 Fill in the information accordingly and we will get back to you as soon as possible!