It's 2023, should businesses send regular blog emails to their subscribers?  I wanted to know how marketers truly viewed the topic of emailing blog posts in the modern marketing era so I spent the past month interviewing more than 20 marketing experts to find out how they perceive emailing blog posts in the year 2023.
So let's dig in.
Emailing Blog Posts in 2023
1. Why Email and Blog Posts?
We are passionate about emailing blog posts because potential leads and subscribers are opting in to receive your content. Having subscribers is far more powerful than SEO and social media. They are opting in to having your blog post delivered to them, so it's a great way to generate new leads and nurture existing ones. Using email to distribute this relevant content is also great for retaining clients, as you'll be producing thought leadership material in their field.
Spending money on creating awesome content but not distributing is a waste of your hard work because email is the best way to reach, touch, and nurture leads and clients. Emailing blog posts gets the most bang for the buck and ensures that your blog reaches a wide audience. Be sure to include calls to action to bring traffic back to your primary website to convert leads into sales.
2. What is the Ideal Frequency for Emailing Blog Posts?
As marketers, we are always trying to walk a fine line of emailing blog posts while not bombarding our contacts with too many emails. One thing to remember is that your subscriber list will want your content as long as you're producing quality content, so they're certainly going to want your emails.
As a rule of thumb, we believe that brands should send no more than 2 blog posts out per week. If your brand produces more than that, it's a good idea to roll them up in a newsletter. It should contain the list and teasers to all of your blog posts published that week, so your subscribers can pick and choose exactly what they want to read.
Based on the brands we talked to, we find about 75% are emailing blog posts every time they publish one regardless of post frequency, and about 25% send a monthly round-up newsletter of all of their blog posts for the month.
75% email every blog post when it's published
25% send monthly round-up newsletters
Katrina Niemisto from Marketo allows subscribers to choose how often they receive blog posts in their inbox since they publish 15-20 blog posts per month. She said
"By curating different cadences, we have the opportunity to provide readers with the experience they're looking for. We have some loyal readers who digest every single blog post and some folks who are reading our blog for the first time when they sign up for our blog digest emails."
Matt Diggity, who runs his own marketing agency says,
"I email every single post.  As long as you're publishing quality content, your email list won't be annoyed by the intrusion.  They'll be grateful." On the days he emails out his blog posts, he sees about 3 times more traffic to his site than on other days.
The key takeaway here is to give readers the option to either get every post in their inbox or a weekly/monthly roundup of posts. This will help you provide the most value to your readers and cut down on those unsubscribe rates. And be sure to have a regular cadence so that your readers can look forward to your posts. Your marketing automation tool will help ensure that every post or digest is sent consistently and reliably.
3. What Value Does Emailing Blog Posts Provide?
One of the most crucial things to keep in mind is that you need to give these subscribers and leads something of value with every email.
Producing valuable content that targets pain points and addresses relevant topics for your ideal consumer will position your brand as a thought leader. When you're viewed as a thought leader or a valuable resource, the people on your email list will look forward to your blog post emails.
Gregory Bullock from TheraSpecs relies on emailing blog posts for a number of reasons, saying,
"I would highly recommend it to others who have or seek to develop a catalog of great content. We have increased quality traffic to the TheraSpecs website, developed meaningful interactions with our subscribers, turned our top customers into our biggest fans and content promoters, and even driven additional bottom-line revenue."
Marketing strategist Alexa Kurtz from Webtek capitalizes on her blog emails by featuring other offers.
"While the blog is the shining star of the email blasts, we also call in some 'supporting roles'. For example, when we send an email promoting the blog, the article is front and center of the e-blast. However, we will often include a special offer, featured project, or highlighted product to give readers even more of a reason to click-through to the website."
Jay Baer from Convince and Convert gets a few thousand visitors to his blog per week, and he values emailing blog posts because
"it's a big part of our ongoing relationship building."
Doug Morneau shared his advice on why his strategy for emailing blog posts is so successful.
"Figure out where your audience is, what their pain points are, and then develop a content strategy that will allow you to be a welcome visitor into their inbox every week.  Don't just send buy my stuff emails, that adds no value to your subscribers."
So the takeaway?  Marketers are emailing blog posts for the following reasons:
Increase subscribers
Increase blog traffic and overall website traffic
Maintain relationships
Create meaningful interactions
Additional revenue
4. How to Craft Great Blog Emails
The email that accompanies each blog post is just as important as the blog post itself! The email should tease your readers and make them want to read your post. It should tell your readers what the post is about without giving too much away—it's all about striking that right balance that leaves readers excited on clicking through to read your post.
Drew DuBoff, Growth Strategist, emails out all of his blog posts and is full of insight. He says,
"My emails establish trust with the readers as I try and prime them for my coaching program. I think this tactic is highly effective when done properly and disastrous when done improperly. If you approach your emails with respect and a genuine desire to get to know your readers more, then you will succeed. If you take the used car salesman approach, you'll get a lot of unsubscribes."
Jenni Lachner, the Content Marketing Manager for Portent, has some things to keep in mind when it comes to crafting successful emails that introduce blog posts:
Think like your audience. Make sure the message in your email resonates with who you are speaking to.
Get to the point. Think about how many emails you get in a day. A clear subject line and straightforward message will increase the likelihood that your email gets opened, and not immediately deleted because it looks like spam.
Be consistent. With your format, with your message, and with your timing. Stick to a regular communication schedule and use the same layout/branding for your emails. Feature a steady tone of voice and message so you can establish trust and reliability with your audience.
Don't forget contact list maintenance. Check those bounces and unsubscribes regularly. Frequently cleaning up your distribution list ensures that your communications are reaching the right people at the right time, and you're maximizing your ROI. And, taking the time to reach out to those folks who unsubscribed from your list can serve as a great lead nurturing touchpoint!
Nathan Piccini from Data Science Dojo has great advice about sticking to the point and creating engaging content when emailing blog posts.
"Have an obvious title and a catchy image. People don't want to try and decipher something in their email inbox. Make sure the title is going to make them understand what the post is about at a glance and the image reinforces it and grabs the reader's attention. An image can speak 1000 words."
Brandon Amoroso from electrIQ Marketing speaks to the value of experimenting with different types of emails such as plain text emails versus templates.
"Make them super personal. An email with no pictures and a simple 'Hey, new post from electrIQ today about XYZ…let me know if you have any questions!' has been way more effective."
5. Best Practices for Blog Email Subject Lines
The subject line is crucial and must stand out amidst the hundreds of emails that your contacts get every day. You want to be playful with your subject line without being cheesy. It's your only chance for your blog post to make a first impression and make your readers want to open your email. Many marketers place significant emphasis on crafting the right subject line, and here is some of their advice:
Jonathan Branney, Senior Content Marketing Manager at Banc, speaks to how important the subject line is when emailing blog posts.
"The hard work starts here when it comes to capturing the reader's attention. We find that posing questions, being personal or making the subject actionable all boost the likelihood of click-through."
Johnny Bolden with Off Road has experimented with subject lines and has some great insights.
"We have used A/B testing with subject lines using Emojis! We found that adding Emojis to
subject lines that are sent to a mostly mobile open segment can drive 37% higher open rates!
That's huge! This is driven by the fact that someone opening a mobile email has less characters
that they see in the subject line and an emoji will stand out heavily."
Jacqueline Tihanyi from Fisher Unitech also has applicable advice when it comes to subject lines for blog post emails.
"We use a subject line grader to make sure our subject line is spam-free to allow for high deliverability rate."
The takeaway?  Great subject lines for blog emails:
Contain emojis
Are well-tested
Contains tangible date/topic information
6. How Much Engagement Do Blog Emails Receive?
Emailing blog posts is a compelling way to keep all of your contacts engaged with the brand. It's a smart tactic to keep your brand top-of-mind without sending out "salesy" emails. Your blog posts should position your brand as a thought leader in your industry every time a new post hits their inbox.
Nate Fuller from Launch gets higher than average engagement when he uses this strategy, saying
"…emailing blog posts typically revives relationships with contacts in our database and helps bring new deals to the table. It reminds past prospects and customers that we are still knowledgeable in our field and that we are still around to meet their needs."
Eric Dahl from Revmarka shares that
"…it normally takes 3-5 pieces of solid content before a customer is willing to engage in a sales conversation. If I'm sending out regular blog posts, I'm speeding up the law of averages while creating opportunity and top-of-mind awareness."
Marine Klein of Commusoft has great advice when it comes to keeping the whole company involved with their blog.
"We work very close with sales and produce content according to what they know will be of interest to leads. It's an effective tactic if you can find the right balance between keeping them engaged without veering into the type of pushy hard-sell that people dislike."
7. Does Emailing Blog Posts Increase Website Traffic?
Emailing blog posts is a guaranteed way to increase traffic to your blog. Ideally, those leads you attract also click around your site for more information about your brand, so emailing blog posts should increase traffic to your entire site, not just your blog.
Dorde Milivevic of Stable WP gets around 1,500 views of his brand's blog every time he emails out a new post. He uses his blog to nurture leads, keep subscribers informed, and engage with current clients. Dorde says that emailing these posts consistently helps him hit goals in every stage of the sales funnel.
Using Google Analytics and UTM codes to track the website traffic your content emails generate is a great way to measure the traffic your content emails are creating.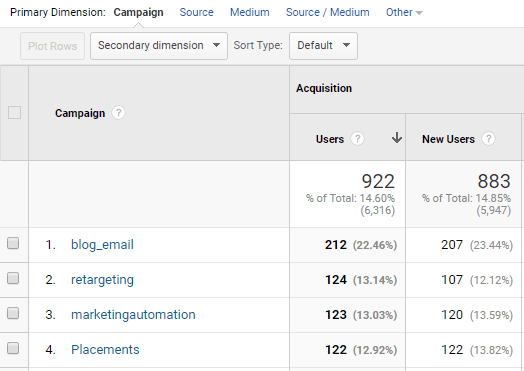 8.Who Should You Be Emailing Blog Posts To?
Many brands email their blog posts out to all of their leads, not just subscribers. However, when a lead subscribes to your blog, it can help gauge their interest in your brand.
If you do a weekly or month digest of your blog posts, readers may choose to receive each and every blog post as it is published. This is great news for your brand, as it signifies they like your content enough to opt in to receiving all your posts.
You should be cautious when emailing both subscribers and leads. Make sure they don't receive your blog post emails twice for being a lead and being a subscriber. Your marketing automation platform should have a way to make sure this doesn't occur if they exist in multiple lists.
Robert Katai of Banner Snack uses a landing page that contains 3 simple reasons why people should subscribe to his blog posts. He also emails his blog posts before he shares on social, creating some exclusivity to being part of his email list, and gets a 45% open rate.
Logan Allec from Money Done Right has valuable insight that every marketer who is emailing blog posts should keep in mind.
"I think the most important thing to remember is that you can't ask for the sale in every email.  You have to start with building trust with each new subscriber and then gradually build up to asking for the sale.  Also, remember that each and every one of those subscribers is a real person sitting behind a computer or on a phone!  And they subscribed to your email list for a reason.  Don't take that for granted."
9. Nurturing Leads
Arguably, lead nurturing is the biggest benefit of emailing blog posts. Distributing this content establishes thought leadership, and gives your brand an excuse to email these leads and stay familiar with them.
Alexander Onaindia of Distinction Agency says,
"Our blog posts are intended to nurture leads by showcasing our team's knowledge of various areas of marketing."
Tamas Torok from Coding Sans uses blog posts as an effective way to nurture leads and says,
"After someone signs up for our newsletter we send our new subscriber a series of emails containing our best blog posts and gated guides. We segment subscribers based on their biggest challenges (they answer this question when subscribing) so our emails are well-targeted and relevant."
Tabitha Oneill from BNC Systems explains how valuable emailing blog posts can be when it comes to getting their brand in front of the right leads at the right time.
"Blog and email are two very low-cost tools we use to bring in new deals. Sometimes they help with staying in contact with leads that have gone cold. Sometimes they reach people who previously refused to answer our phone calls. By demonstrating our knowledge, expertise, and value, we turn really cold leads into warm leads."
Improving Open and Click-Through Rates
It's important to track your open and click-through rates, so that you can monitor which subject lines, topics and copy have the most impact on your readers. Be sure to record all of these details so that you can keep doing what works and discard what doesn't. After you've implemented tracking and refine what works, you should start to see constant improvement with open and click-through rates when emailing blog posts.
Dolores Hirschmann from Masters in Clarity recommends "…having short emails that link to the blog, short teaser videos, and teaser copy" to engage and intrigue readers, and ultimately entice them to click-through to the blog posts.
Lauren Morley, the CMO of Techvera, uses data to power her strategy when it comes to these email campaigns.
"Looking at our analytics to figure out what the most popular content from each email is and designing more content around that has been the most helpful. It drives my strategies for future posts so that I'm writing on what our readers care about."
Key Takeaways
We threw a lot of strategies and advice at you, so let's pare it down to a checklist of things to consider when it comes to emailing blog posts:
Find the perfect cadence for emailing blog posts whether it's every time you publish or a monthly digest of your blog posts
Be sure to bring valuable information to your audience and convey it in your emails
Craft personalized and powerful emails to engage your audience
Write subject lines that stand out
Segment your leads
Emailing blog posts helps to nurture your leads
Monitor and measure open and click-through rates