How the U.S. Green Building Council grew their email community 11%.
March 1, 2019 by Andy Theimer
CUSTOMER STORIES, PARDOT, EMAIL COMMUNITIES
The U.S. Green Building Council relies on Pardot's marketing automation to engage subscribers, drive traffic to their website, and educate an industry.
This is the story of how they optimized Pardot to reach a wider audience and increase website traffic while reducing email creation time 99%.
Meet: The U.S. Green Building Council
Established in 1993




Headquarters in Washington, D.C.




11,000 USGBC member organizations and 14,000 individual members




7 million+ emails sent per year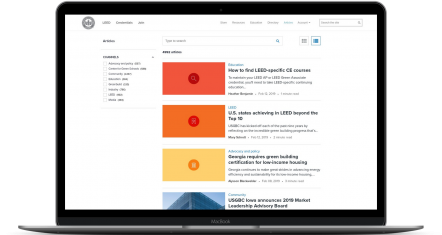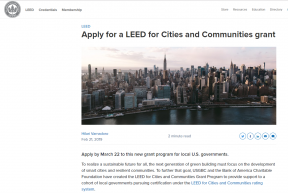 Explore USGBC's content and membership
Optimizing & automating content email while keeping flexibility.

In 2017 USGBC moved to Pardot and added FeedOtter to automate their regular content emails while taking advantage of Pardot's reporting, sending, and automation features.
1. Include descriptions with your articles.
USGBC's original digest template only included an image and a title. It didn't provide enough information about an article to motivate someone to click. Including a short description of each article has boosted their page views.

2. Experiment with the number of items in each digest.
At first, USGBC included 10 articles in their monthly digest. But its emails felt overwhelming. They dropped to seven articles and saw an uptick in the number of people who engage with the monthly digests. Look for a digest tool that gives you the flexibility to make adjustments based on your performance.
3. Segment. Segment. Segment.
USGBC focuses on giving subscribers relevant content. If you dump everyone into one general list, you will see more unsubscribes.
The USGBC team also appreciates the high-quality library of built-in email templates included with FeedOtter. The responsive, image-optimized templates allowed them to setup quickly and deliver emails that entice subscribers to click-through and read more articles.
"The responsive templates allow us to give subscribers a better experience," said Nora. "We now have consistency across the board, and subscribers know what to expect."



The U.S. Green Building Council (USGBC) is committed to a sustainable, prosperous future through LEED, the leading program for green buildings and communities worldwide. Each year, they send out more than seven million emails that educate members about industry news, events, credentials, and best practices. In fact, USGBC has nine channels that provide their 20 audience segments – from LEED-credentialed professionals to architectural firms – with relevant content.

Ursula Fox-Koor
Email Marketing Manager
"We rely on our emails to keep subscribers informed, acquire new customers, and drive revenue. Our emails help us establish relationships with subscribers, as they position us as trustworthy experts in green building."
However, sending multiple content-filled emails each week was beginning to become a challenge...

Moving to Pardot, Improving Email Engagement, and Automating

"We knew that we needed to leave our marketing automation provider so that we could gain more control over our blog digests," said Nora. USGBC's marketing automation provider had built a custom email template for their blog digests but the template gave them little control over how their digests looked and functioned. The digesto tool also wasn't reliable. It often failed to pull the correct articles into digests and send out automated emails on time. "Our subscribers look forward to our emails, if an automated email didn't go out, it hurt our reputation." said Nora.

Jake Rose
Email Marketing Specialist
"Using FeedOtter was a no-brainer," said Jake Rose, Email Marketing Specialist for USGBC. "It was easy to set up and integrate with Pardot. It also gives us total control over the look and feel of our digests – without the need to ask a developer for help whenever we want to change something."
USGBC's marketing team can customize all of their digests. For example, they can choose the number of posts to include in each channel's digest. They can also segment channels and tag articles for different themes, such as "updates" and "conferences."
Email open rates 14% higher than the industry average

"Our regular digests are are the best-performing campaigns," said Nora. "They are driving traffic to our site so that people read our articles and engage with our content."
In addition to seeing an the open-rates increase the USGBC also saw:
11% increase in blog subscribers
28% email open rates – the average open rate for B2B emails is just 15.1%
99% reduction in the time that it takes to create and manage blog digests
Improvement of digest deliverability rates from 88% to 99%
The USGBC's top 3 tips for increasing blog, RSS email engagement
"With FeedOtter, we don't need to worry about our blog digests. We are confident they go out on schedule, function correctly, and will bring us lots of opens and clicks."
Digital Marketing Director
FeedOtter can automate your content emails

11% increase in blog subscribers

Email open rates are 13% higher than the industry average

99% reduction in time spent on weekly content emails
Automated Pardot RSS emailing with set-it and forget-it performance

Emails are easy to create, modify, and maintain
Full-circle reporting using Pardot and Google Analytics


Sending 5-10 industry newsletters per week was time-intensive

Little control over the design of their newsletters

Attempts at automation resulted in errors and misfires



Built from the ground in Manhattan, Kansas