How to Send RSS Email With Pardot
A setup guide detailing how to send RSS emails with Pardot and FeedOtter.
1. Create a new Pardot Campaign for your RSS Emails
Login to Pardot
Navigate to Marketing > Campaigns
Click the Add Campaign button and create a new campaign with a description name such as Weekly Blog Subscriber Digest Email
2. Create a New Pardot List
If you have already have a list in Pardot containing your subscribers you can skip this step.
From the left-side Pardot menu select Marketing > Segmentation > Lists
Click the Add List button and create a new list to contain your RSS email subscribers.  Give it a descriptive name such as Blog Subscriber List or Monthly Blog Digest
If you use the Pardot Email Preference Center and want this email to appear as an option, check the Public list checkbox
3. Create a new Automated RSS Campaign in FeedOtter
If you have already have a list in Pardot containing your subscribers you can skip this step.
Click on the New Pardot Email button
Follow the wizard and accordion steps to create and customize your RSS email, key aspects you'll want to be sure to check out are:

Selecting from our library of awesome, responsive, templates
Adding your company address and social media URL's
Uploading your logo and setting your brand colors
4. Setup Your Pardot Connection
When you're happy with your email, click on the Publish to Pardot button to connect your email to Pardot and make your email active.  If this is your first time connecting a FeedOtter rss email to Pardot you will be prompted to enter your Pardot API details into a popup like the one at right:
Login to Pardot and go to: https://pi.pardot.com/account
Click on the My Profile tab
Look for the line titled "API User Key" and copy/paste that into the first box
Email and Password are what you use to login to the Pardot application
Click the Save button to verify FeedOtter can connect successfully.  If you receive an error, please recheck your information and/or email us at success@feedotter.com to schedule a setup call.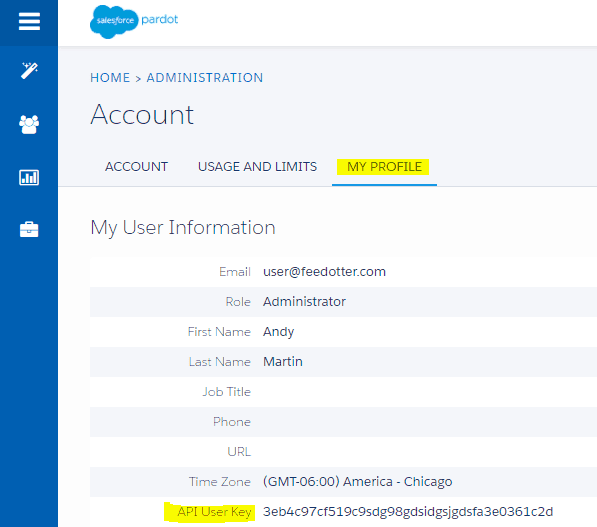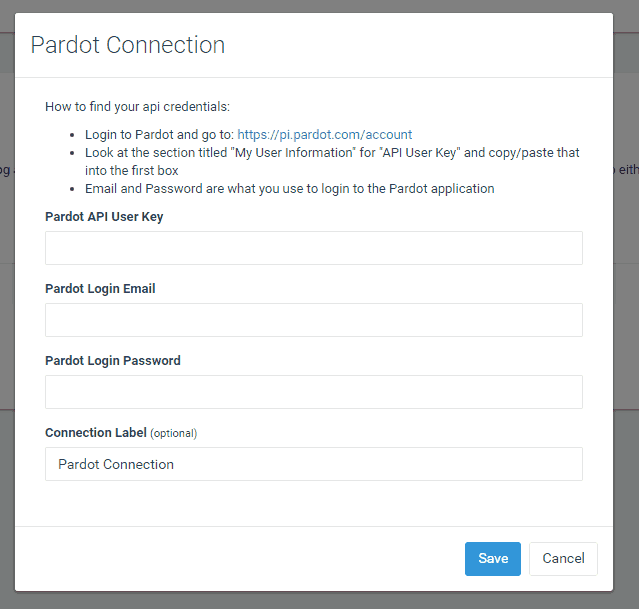 5. Select recipient lists and reporting campaign
Next you need to tell FeedOtter what Pardot Campaign to associate with your emails and which Pardot List(s) to send emails to.  Referring to the screenshot to the right, copy and paste the name of your Pardot Campaign and List(s) into FeedOtter and click the Select Campaign and Add List buttons respectively to each.
In the screenshot, I have already entered a Pardot Campaign named: Monthly Blog Updates and a Pardot List named: Internal Test List
Once, you have these items filled in, click the Publish to Pardot button to start your RSS email.