How Clinicient Increased Blog Traffic 15% and Grew Subscribers 15X
CUSTOMER STORIES, MARKETO USER
Clinicient produced amazing blog content – but not enough customers and prospects were seeing it.
This is the story of how Clinicient used Marketo to promote their content and grow their blog pageviews and increase subscribers.
#1 recommended EMR and billing solution for occupational and physical therapists
Produce 1-2 new blog posts per week
42,000+ blog subscribers

Offer weekly and daily email subscription options
18% of Clinicient's web page views come from their blog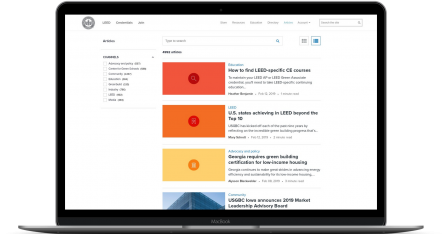 Explore Clinicient's content and subscriptions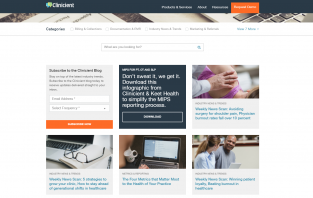 Subscribers weren't opening or clicking our digest emails

As the Content Marketing Program Manager for Clinicient, Taylor Goldsmith has a lot on her plate. She spends her days creating content that positions Clinicient as the leading electronic medical record (EMR) and billing solution for physical and occupational therapists. A big part of her job involves overseeing the Clinicient blog.
"We focus on education and are known for our strong content," said Taylor. "Prospects and customers visit our blog for tips on how to run a successful therapy practice."
The blog offers advice that helps subscribers engage patients, market their services, manage their billing, and maintain compliance. Taylor also wanted to make Clinicient's blog the #1 destination where physical and occupational therapists can learn about industry news and trends.
But when Taylor took over the blog in 2016, it was stale and only updated once a week. "Since visitors find us organically through our blog, I knew that we had a huge opportunity to grow our subscriber base and engage customers," said Taylor.
Taylor put together a team of writers and started publishing posts on a daily basis. She also produced weekly lead-gen content – including infographics, ebooks, tip sheets, and market surveys – to entice prospects to engage with Clinicient. Through her efforts, Clinicient's blog grew to 6,000 views per month.
But expanding beyond this point wasn't easy … especially since Taylor lacked the right tools to engage subscribers and draw more traffic to Clinicient's content.
Taylor used a digest tool that integrated with Marketo to send daily and weekly blog updates to subscribers – depending on how frequently they wanted to receive notifications. However, the tool was hard-to-use and required manual intervention that took Taylor away from her core projects – such as content strategy and engaging with customers.
"I had to do lots of custom formatting and coding every time I wanted to send out a digest," said Taylor. "Since I'm not an expert coder, this took me tons of time and still didn't produce great results."
The digest tool didn't allow Taylor to include images in her emails. Since images have been proven to boost click-through rates by 42 percent, Taylor was frustrated that she couldn't include them in her email digests.
Taylor also couldn't get help from the tool's support team, so she had to ask her developer to build custom Marketo connections and troubleshoot issues. But since Taylor's developer was headed off to the army, she wanted a tool that didn't require IT support.
"Despite our best efforts, our daily and weekly blog digests looked spammy and didn't catch people's attention," said Taylor. "We needed a solution that would make our emails look professional and enticing to subscribers. I also wanted a tool that was easy to use, so I wouldn't need to spend so much time building digests."

Taylor Goldsmith
Content Marketing Program Manager
A new Marketo email digest tool, increased engagement, more subscribers

The upgrade started by finding a new email digest tool compatible with Marketo. "FeedOtter was the answer to all of the problems that I had with our previous digesto tool," said Taylor. "I could tell that Andy, FeedOtter's founder, had experienced all of the same headaches as me when sending out blog digests, since his product addressed all of them. Everything about FeedOtter is very streamlined and well thought out."
Taylor particularly liked FeedOtter's digest templates, as they make it easy for her to produce attractive emails that drive subscribers to Clinicient's blog. "Now, our emails look professional and reflect the effort that we put into creating high-quality content for our subscribers," said Taylor.
FeedOtter was also easy to integrate with Marketo. Taylor's developer spent less than 10 minutes setting everything up. All of Clinicient's blog digests are sent directly from Marketo – which makes it easy for Taylor to track opens, clicks, and other engagement metrics using Marketo's existing Email Performance Reports.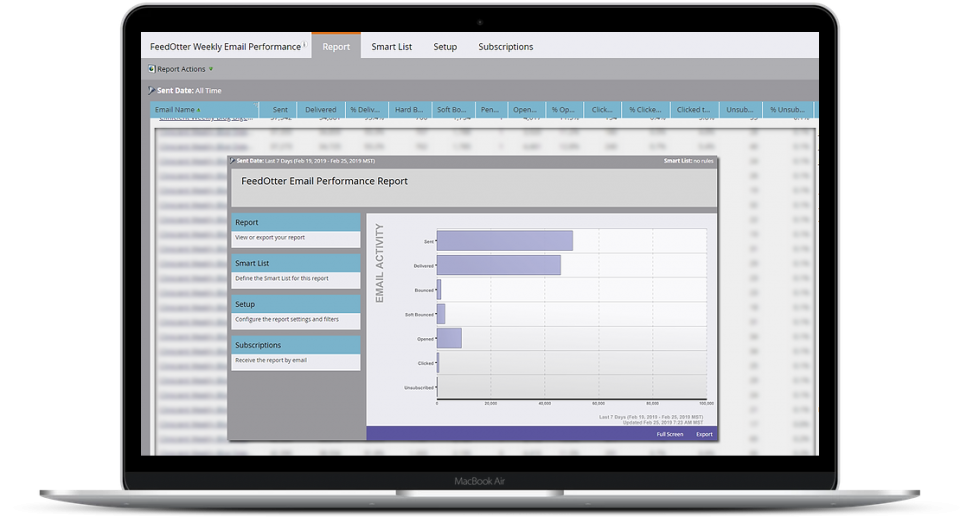 "FeedOtter is set-it-and-forget-it," said Taylor. "I don't need to build emails from scratch, copy and paste items, or do custom coding. Every day, I get our digests and don't need to check anything. With FeedOtter, I trust that our emails work and I'm proud of how they look."

On the rare occasion when Taylor had a question, it was easy for her to connect with FeedOtter.
"I emailed support and quickly received a personal response," said Taylor. "It was a breath of fresh air to speak with someone who understood my question and had an easy solution that I could put into place."
Automation we can trust = time saved

An updated content strategy, reliable, engaging blog digests.

Taylor was able to see the impact of the upgraded content marketing from day 1. "For the first time, subscribers are emailing me personally to tell me how much they love our content," said Taylor. "It's wonderful to know that we are making an impact. Thanks to the increased engagement with our emails, our blog views have risen steadily each month," said Taylor. "In fact, we are on track to hit 100,000+ views on our blog for the first time."
More results from Taylors's new content marketing strategy:
Blog subscribers skyrocketed from 2,500 to 42,000+

Blog pageviews have increased from 6,000 to over 12,000+ page views per month

18% of Clinicient's web page views now come from the blog

Time savings of approximately 2 hours each week, as Taylor no longer needs to format or troubleshoot or babysit digesto automation

"FeedOtter is set-it-and-forget-it, I don't need to build emails from scratch, copy and paste items, or do custom coding. I trust that our emails work and I'm proud of how they look."
Content Marketing Program Manager
15 Minutes to Grow Your Website Traffic and Subscribers

Connect your blog to Marketo to automate content emails, grow traffic, and increase subscribers today!
Schedule a personal demo today

Built from the ground in Manhattan, Kansas