In this guide, we'll walkthrough how to setup your first curated newsletter in FeedOtter. This will show you how to add content sources, the makeup of the html email design template and how to add subject line, to/from information and basic information into your curated newsletter.
Create A Curated Newsletter
Log In to your FeedOtter account (or create a free trial account ) and click on the Curated Newsletter tab in the top menu. Then create New Newsletter.
Give your email campaign a name and click Next.
In the next steps you are setting up "default" properties.  These are settings and configuration that will be automatically copied to each New Issue that you generate.  This templating process saves a ton of time and you can edit these defaults anytime by clicking the SETUP button for a newsletter.
Tip: You can also restrict the editing of these defaults to only admin users on the Tools menu.
From, Reply-To, and Default Subject Values
The first screen you will see prompts you to fill in the values mentioned above.  These are all required fields and will be copied to all future issues.  We recommend setting a default subject and preheader.  You will be able to tweak and change this on a per issue basis.
Select an Email Template
This will determine the design, look and feel of your emails.  You have 2 options here; 1) Use a built in template from the FeedOtter library. 2) Upload your own custom HTML email design.  To learn more about uploading your own design read more here:
Will will continue using a FeedOtter template.  You can browse and select a template by clicking on Templates on the right sidebar, then Template Library. I have select the Kagera template for this tutorial but you can change templates and explore on your own.
When using a FeedOtter template you can specify certain properties to match your brand. These include:
Uploading your logo
Setting a primary and button/cta color
Changing the default CTA text. (read more etc…)
Specifying the size of the description text displayed (in characters)
You can also fill in your Address and Social information.  All of our templates have address footer information. Some of our templates display social profile links.
Integration Defaults
Since FeedOtter is going to create emails sent or used by your marketing automation or ESP tool.  You can program the default settings and have FeedOtter use those for every new issue.  This saves you time by not having to re-select the lists/segments/folders every time you want to send an email.
Click on Integration on the left menu and select your desired target system.  Click Configure Defaults.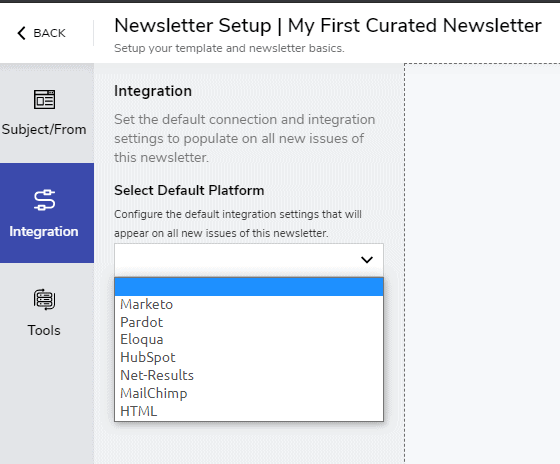 You will be prompted to select a connection and supply default values that differ based on your system.  Remember you are setting the defaults.  You can always tweak and change these on each send if desired.
Ready to bring in some content?  Continue to: Setup and Configure Your Content Sources
or skip directly to any step: