According to the Kapost Blog, every day "the average customer will be exposed to 2,904 media messages. They will pay attention to only 52 of those messages, and positively remember only 4."
If you want your company's message to be one of those four that sticks out in consumers' minds, you might want to think about introducing some personalization into your marketing automation strategies. Thankfully, marketing automation software is incredibly easy to personalize since it can store customer data, manage custom fields, segment lists, and more, so really, all you need to do is decide which areas of your marketing plan need improvement to best reach your target audience.
Below are some ways to creatively personalize your outreach while still using automation to reach customers in real-time.
1. Personalize Email Marketing Automation by Including Recipient and Sender Names
Let's start with some more statistics. According to the Kissmetrics blog, research shows that as many as 74% of online consumers are frustrated by messages that aren't relevant and don't fit their interests. On the other side of the spectrum, personalized emails increase both transaction and revenue rates by 6x.
Judging by these stats, personalizing your email communication should be a no-brainer for marketers and entrepreneurs. Consider starting with something small like including the recipient's name in the email. Including a contact's first name, last name — or both — is much more likely to encourage them to open an email as opposed to using a generic greeting.
The next step would be to play around with the sender's name. HubSpot states that purely including a sender name instead of the company name led to a .96% click-through rate versus a .73%. People like to think they're getting emails from a human instead of a company or a robot, so experiment with different sender names using A/B testing until you find one that works well for your company.
The example below shows the email from Babylist used company employee Lisa Diaz's name in the sender field. As a test, they may try using her name with her title under it, so you know who she is, or they may try having it come from someone else (such as the CEO), and then one option where they sent it from info@babylist.com for example.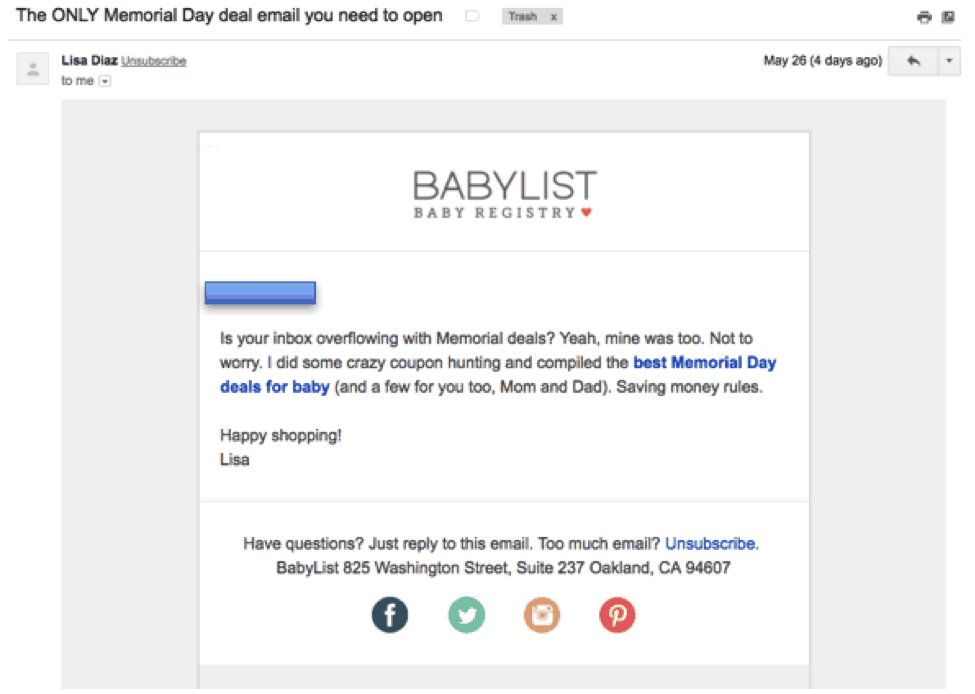 Check out this article from FeedOtter.com on how to successfully test the "from" field. You'll know you've succeeded when your analytics show that buyers are consistently engaging with your email messages instead of sending them straight to the junk folder.
2. Track Users' Online Behavior and Personalize the Content They See in Their Email and on Your Blog and Website
Using your marketing automation software, set up custom fields to track your customer's online behavior to learn more about them and best customize your marketing strategy. Once again, this article from FeedOtter goes into depth on exactly how and why you should do this. Similar to how consumers don't want irrelevant emails sent to them, they won't be interested in reading content that isn't personalized as well.
Marketing automation software has the potential to provide marketers with an incredible amount of data regarding their target audience based on what they've searched for and purchased online in the past, their personal and professional background, and more. Hence, it's up to you to seek out that data and use it to your benefit.
Once you've learned more about what your customers are interested in, take that knowledge and personalize your images, calls to action, and targeted messaging. As soon as a potential customer ends up on your website's landing page, they should be presented with engaging, personalized content that makes them want to explore your site further and eventually make a purchase.
3. Personalized Product Recommendation Engines

Amazon and other successful retail companies have embraced personalized product recommendation engines that are as good as having a knowledgeable sales associate standing next to you while you're making a purchase. However, this strategy doesn't have to be reserved for fortune 500 companies.
Anyone with knowledge of marketing automation (or the willingness to learn) has the potential to use this tool to their benefit, and they should! You've most likely experienced this feature when you've gone to make a purchase, and whatever site you're on has suggested other products that you might be interested in buying. It seems simple, but it's an incredibly effective tactic to get consumers to search longer and buy more.
Barilliance is an example of one such tool that entrepreneurs can use to give their consumers personalized product recommendations across multiple pages and channels.
4. Change Your Website Based on User Behavior
ConversionXL suggests using behavioral targeting to modify your website in real-time based on your customers' actions. This might sound like a complicated and time-consuming strategy, but it's really pretty simple with marketing automation software.
When you use behavioral targeting, you decide exactly what type of user behavior you want to target (i.e., new users, repeat customers, customers who have made more than 2 purchases in a month, etc.) and then use the software to decide how you want to modify your website to meet their needs.
You can change out the banners and images that are displayed to show personalized, targeted messages. Or you can replace your normal content with targeted content or introduce popups asking for email subscriptions, etc.
The possibilities are endless; you just have to decide which type of customer you want to reach and then be creative about how you're going to engage them. Once you determine this and set up your software, the process should be seamless. UTM tracking is a great way to get started, and FeedOtter explains how to use it in this article.
5. Use a Marketing Automation Tool for Social to Identify Interested Customers
When people think of marketing automation, they usually think of automated emails. Still, social media can be automated as well to help you identify customers who may be interested in your business. Social media is a great place to help your business grow, but it can also be incredibly overwhelming with the sheer number of users and posts that are happening. Save yourself some time and effort and use automation software to scan through your social platforms to identify customers that are truly interested in your business, and then reach out to them one-on-one.
You can use tools that identify customers who are actively seeking information on social media about your products and services so that you don't waste time contacting people who aren't serious. Your customers will appreciate the personal touch when a company member contacts them to have their question or concern handled as.
However you choose to do it, personalized marketing automation is definitely the way to quickly and easily target specific customers without spending too much of your valuable time and resources doing so. How do you use marketing automation for your business? Can you think of any other ways to personalize this communication? Comment in the section below!