Create Curated Email Newsletters
Curated email newsletters allow you to build thought leadership and stay top-of-mind with your customers.
Drag and drop content items to craft the perfect email in seconds.
Supports video content from YouTube or Vimeo.
Include social posts from Instagram, Twitter, or other social sources.
With the FeedOtter bookmark you can instantly save any webpage to FeedOtter for use in a curated newsletter.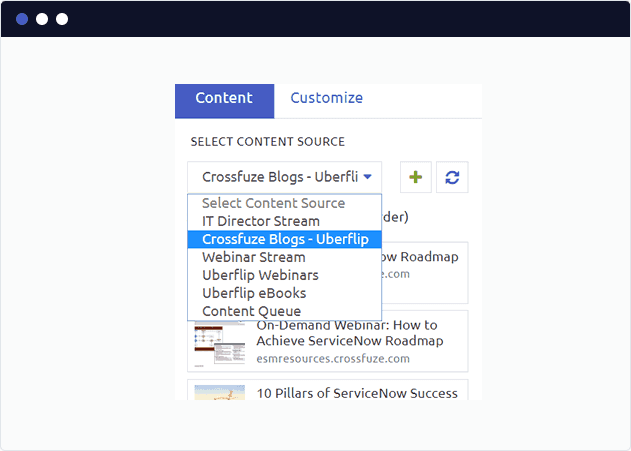 Add content sources to FeedOtter
Add your favorite blog and news websites, YouTube channels to easily drag-and-drop content into your curated newsletters.
You can also bookmark content from any website directly to your FeedOtter account with our Content Bookmark feature.
We also feature integrations with UberFlip and Newscred for direct access to your content streams.
Select and re-order the content for each newsletter
Our drag-and-drop curated email newsletter builder allows you to craft the perfect mix of content in a matter of minutes.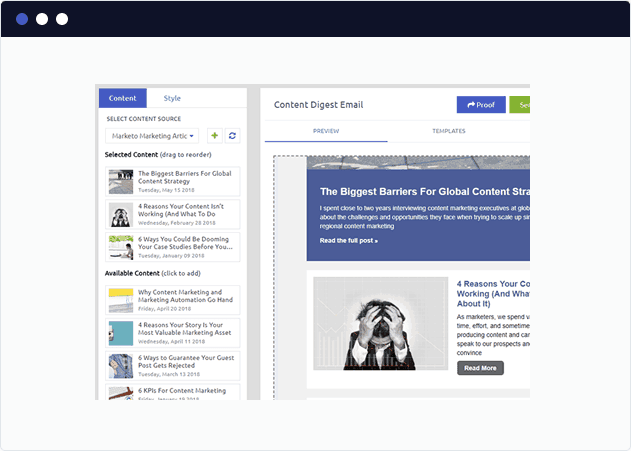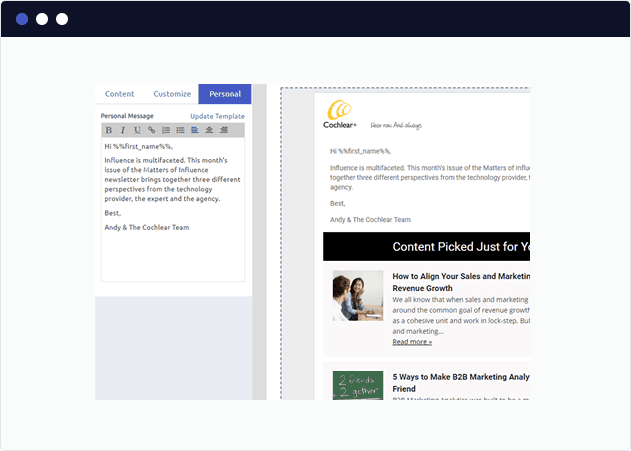 Personalize
One key to a successful curated email newsletter is personalization.  One of our favorite ways to accomplish this is to add a personal greeting at the top of your curated newsletter.  This personal greeting should include:
The first name of the recipient, merged in from your ESP or marketing automation software
A 2-3 sentence message highlighting posts in this issue as well as any other timely, relevant and personal bits
A signature such as "Andy and the FeedOtter Team" or even better an actual multi-line email signature
Test and Schedule
At any time during the email creation process you can send yourself "proof" emails directly from FeedOtter.  This allows you to test your email and show your colleagues how awesome it looks!
When you're ready to publish your email to Marketo for sending our one-click publish takes you directly to a new Email Program and Email ready to be A/B tested, edited, or sent.
Sound easy enough?  Create your first curated email newsletter today.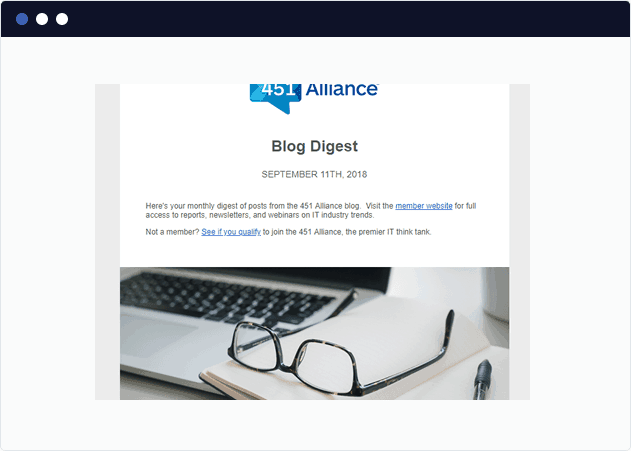 What is a curated email newsletter?
A curated email newsletter is one that aggregates interesting and/or popular content around a specific subject. Curated newsletters find the best of the best material, and then pull it together in one place.
Often times, along with links to the contents' external locations, the newsletter will offer a brief comment or summary about the pieces as well.
Here's an example from a FeedOtter customer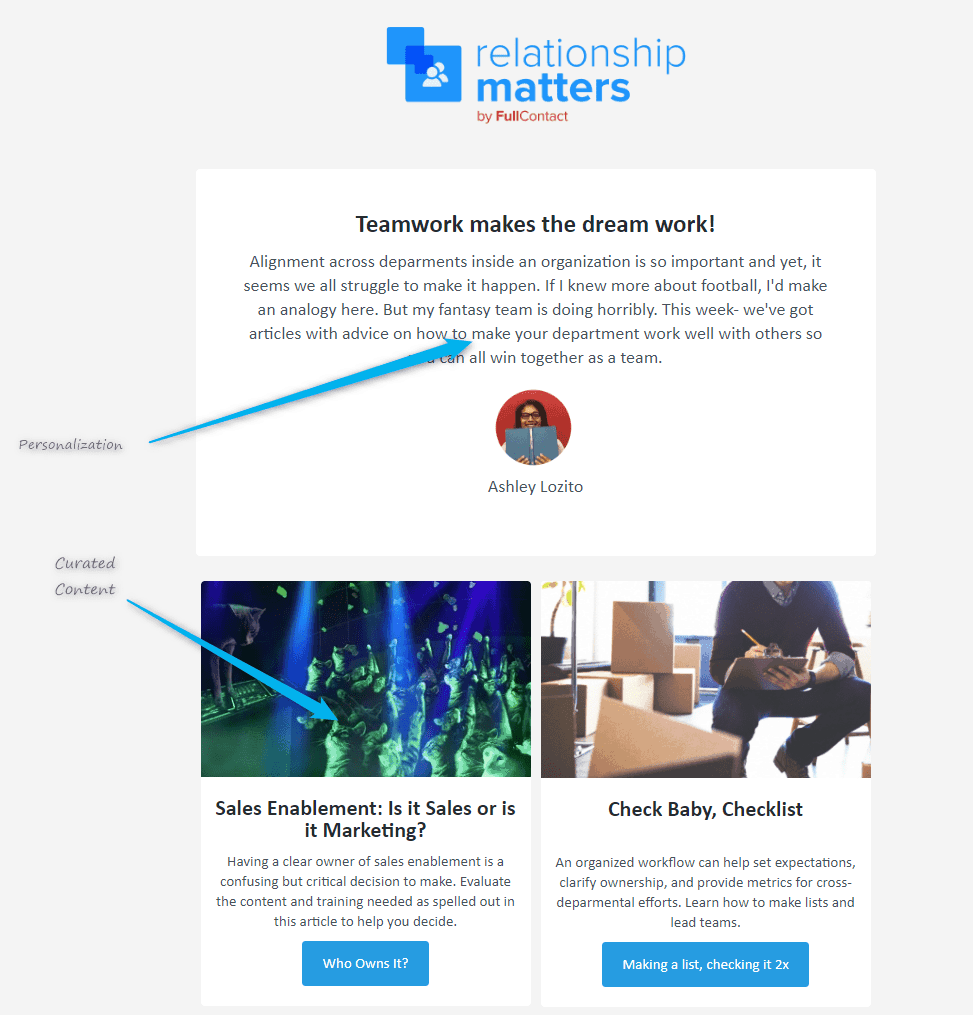 Why create a curated newsletter
There are many reasons people take the curated newsletter approach. For many, it helps build their businesses by:
Staying top-of-mind with subscribers
Building thought leadership around their brand
Sharing interesting findings and resources
Curated newsletters are a chance for you to offer readers a vast variety of material you've hand selected for them. And with so much content being published on the web, a curated newsletter has serious value.
How to create a curated email newsletter
1. Choose Your Topic
Will your curated newsletter contain email marketing tips & tricks? Or will you be curating content about web design trends? Choosing your topic is one the most critical parts of starting a curated email newsletter and there are 2 key things to consider when creating your curated newsletter:
Audience — The value for your subscriber audience is having the best content around a particular subject selected and sent directly to them. This means the topic and content needs to be aligned with your audience's expectations and interests.
Business Alignment — The goal of creating a curated newsletter is to keep your business top of mind and establish your brand as a thought-leader. For this reason it is important to ensure your content relates to your brand and the products you are selling.
Finding the balance between these two items is where you will find the right topic for your newsletter.
2. Gather Your Content
Finding trustworthy and high-quality content sources is one of the most important tasks associated with creating a curated newsletter.
You'll likely need to read a lot of content about your chosen topic in order to find the best stuff for your subscribers, so it'll help to setup some basic systems to ensure this is as quick and easy as possible.
Rather than spending hours manually browsing different sources, use tools like Feedly and Flipboard to help bring all that content together in one place.
These tools will pull all of your favorite sources into a customized magazine-style layout which makes it really easy to browse articles and find interesting content.
When you find something you want to include in your curated newsletter, you can use tools like Evernote or Pocket to save them for later so it's ready to go when you're creating and sending your newsletter.
3. Build your first newsletter
If you are a FeedOtter customer you can use the curated campaigns feature to drag-and-drop content from any website or rss, social, YouTube, Twitter, or Instagram feed directly into your email design. FeedOtter also includes lots of great curated newsletter templates to make designing your first newsletter a quick and easy process.
If you are not using FeedOtter we highly suggest using a visual editor such as the free BEE editor to manually add each content item to your email. This can be a tedious process and requires manually laying out the email and the content images, titles, and descriptions manually. (hint: this is why we built FeedOtter)
4. Send your curated newsletter
With your email designed and created it's time to send your first curated email newsletter to your subscribers.
If you're a FeedOtter customer, you can select one of our email integrations and schedule your curated email to send from Marketo, Pardot, Eloqua, or MailChimp directly. This is ideal since all open, click, and unsubscribe tracking stays in your existing email system.
Outside of FeedOtter you will need to copy your email HTML into your email sending software ensure all the links and unsubscribe functions are working perfectly.
In either case we using an email testing tool such as Litmus to ensure your email looks great.
Once you've tested your newsletter, you're ready to hit send on your first curated email newsletter!