Content marketers have a broad variety of tasks. Creating content, promoting content, engaging with readers and running social media channels are just a few of the many things you probably have to do each day. One thing that often gets overlooked is ensuring that you're creating content for all stages of the buyer's journey to fill up the content marketing funnel.
Your goal as a content marketer is to promote thought leadership for your brand and bring in new leads that hopefully convert into sales. It's a lot of work and it's crucial to walk leads through the buyer's journey to land more clients for your brand.
Research from Content Marketing Institute tells us that 90% of marketers are using content marketing to generate demand and fill the top of the content funnel. However, only 60% of marketers use content to persuade a lead to check out a brand's product or service thus not helping them convert from a lead to a sale. This shows us that a lot of marketing organizations have a disconnect when it comes to creating content to appeal to all stages of the buyer's journey and fill up their content funnel.
This post is here to help you understand what types of content you can produce that will get more sales for your brand and earn gold stars from your boss for your successful content marketing approach. Let's dive in.
Become a Content Funnel Expert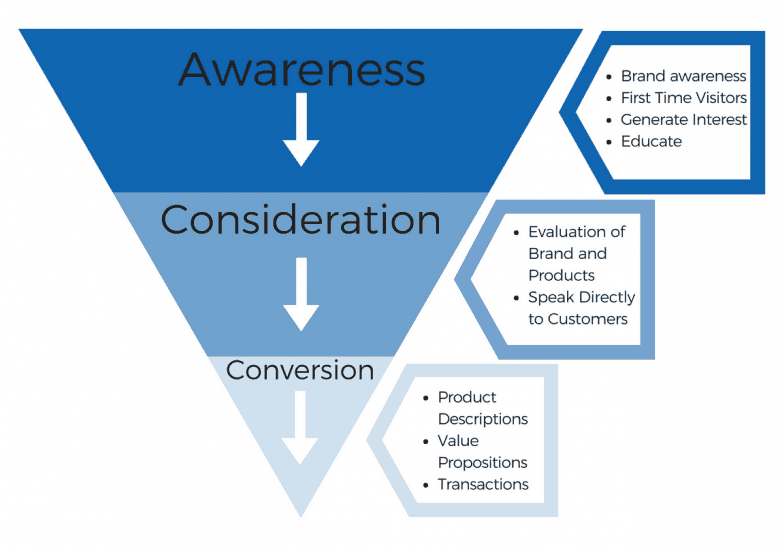 Image courtesy of SEMrush.com
Awareness: The awareness stage is how a new lead discovers your brand either through search or through a piece of content that you produce. Blog posts, social media, and ebooks are all common ways that a new lead enters into the content funnel and becomes aware that your brand exists. Awareness content is usually thought leadership content and strays away from pitching your brand within the content.
Consideration: The consideration phase happens after a lead becomes aware of your brand. Usually in this stage, they are taking a deep dive to learn about your brand and compare it to your competitors. When a lead is in the consideration phase, they digest more active forms of content like product reviews, white papers, webinars, and more. Consideration when creating content has the potential to filter out leads who aren't a good fit for the brand making the leads that progress to the next stage qualified.
Conversion: The conversion phase is when the lead decides whether or not they're going to become a customer. While this is a crucial stage for leads, a lot of content marketing strategies fall short here, but we'll fix that in this post.
Spend Less Time on Brand Awareness
Brand awareness spans the broadest category and marketers find it easier to create content for brand awareness. So, it's likely your brand awareness strategy is solid and you need help creating content for the conversion phase.
Don't get us wrong, brand awareness is key to generating leads in the first place, but, it shouldn't make up the majority of the content that you create.
So, we propose this: how can you spend less time on brand awareness content and more on creating content that converts leads into sales? After all, isn't your goal and perhaps even your performance measured by how many new customers you bring to your brand through your awesome content?
Does Your Content Close the Deal?
When you tap into your marketing automation software to see what types of content leads are digesting before they convert into a sale, are you noticing any trends? Is there a particular piece of content that seems to convert?
In order to make sure your leads are getting the type of content that converts, you should have a dynamic email drip for all of the leads that enter into your content funnel and you should slowly drip them content that moves them through the buyer's journey. After sending them five to seven emails, they should be "sales-ready" and ripe for your sales team to reach out to.
As we see in the Content Marketing Institute survey we mentioned at the beginning of this article, marketers do a great job of creating content that builds brand awareness and generates leads, but not so much when it comes to converting a lead into a customer.
Types of Content That Converts
Succeeding with creating content for the conversion stage of your buyer's journey requires a lot of research and well-documented buyer personas. When you're creating content that converts, marketers need to have a strong pulse on pain points a lead faces and the types of solutions that will appeal to them.
Treat every lead like the potential consumer that they are and implement this into your email drip campaigns. Start with awareness and thought leadership content, move to consideration content, and finish with converting content before you mark that lead ready for sales or invite them to sign up for a trial of your product.
Let's take a look at some types of content that you can publish and use to convert leads into sales:
White papers: While a white paper could also fill the top of the funnel, producing a white paper that focuses on how your brand solves certain pain points your target buyer may encounter would be perfect for the conversion stage of the funnel.
Case studies: Case studies are formal pieces of content that document the success stories of your clients and emphasize how your brand is a solution. These tangible examples of how your brand can help your target consumer are one of the best ways to convert a lead into a sale.
Webinar: A webinar that showcases how your brand works and offers customer success stories is a great way to move leads into the conversion phase of the funnel. Offer viewers concrete examples of how your brand can make their lives easier.
Break Down Silos Between Marketing and Sales
In order to operate a well-functioning content marketing strategy, you need to have close communication ties with sales. Sometimes leads come to them directly and don't go through the whole email drip process. So, sales needs to be equipped with different types of content that they can share with leads while they're trying to persuade them to become a customer.
Not only do you need to equip sales with content assets, sales is client-facing and thus probably understands buyer behavior and can offer ideas for your content creation efforts.
Lastly, silos between sales and marketing need to be broken down so that you can come up with a strategic process on how to approach leads after you've walked them through the entire content funnel. Is sales going to reach out to the leads directly? Are you going to send leads an email to see if they want to register for a demo? You get the drift.
How to Measure Your Efforts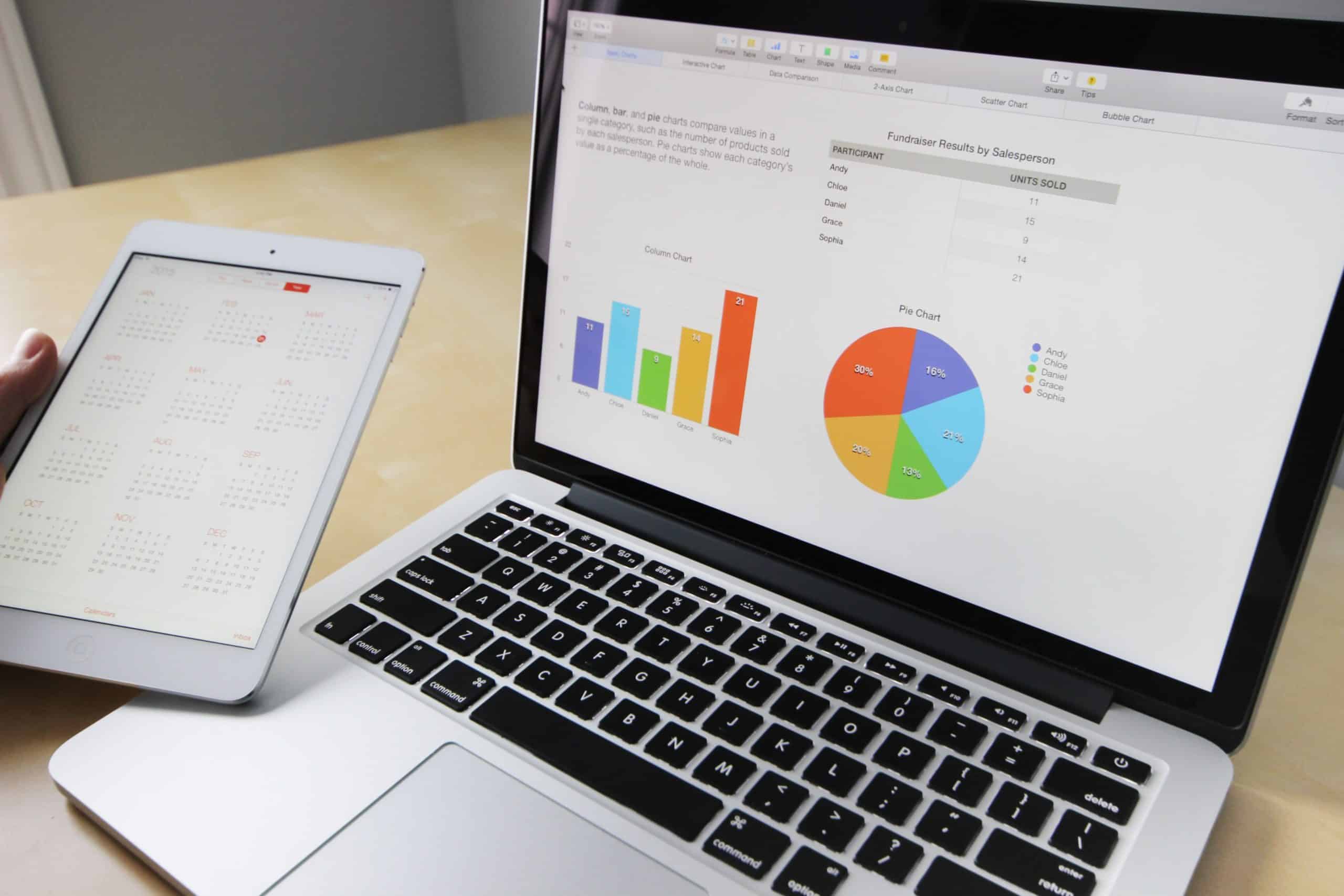 In the Content Marketing Institute report that we referenced at the beginning of the post, it's clear that marketers mostly measure KPI's at the awareness stage of the content funnel like traffic, the number of leads generated, and engagement. However, there are completely different metrics that need to be documented for judging the success of your content in the conversion stage of the funnel. Some metrics to consider are:
How many demos and/or trials did your content bring in?
How many leads converted to clients?
How many people downloaded your white paper?
How man views did your case studies get?
Key Takeaways
Research shows that most content marketers do a great job at filling the top of the content funnel with brand awareness content but don't give the bottom of the funnel, the conversion phase, enough efforts. Content marketing isn't just about generating leads, it's also a strong way to convert leads into sales when done correctly.
Most marketers need to shift their focus from only generating brand awareness and need to implement strategic ways for creating content that move leads into consumers. The best types of content to convert a lead into a sale are white papers, case studies, and webinars.
Don't forget to be sure to establish strong communication with your sales team in order to make the most out of your content program. Your sales team needs to be equipped with the awesome content that you create so that they can utilize these pieces of content when they're trying to close details.
Lastly, to get the recognition that you deserve for your great content program, be sure to document your content marketing strategy, specifically when it comes to documenting the pieces of content that convert leads into sales by measuring things like the number of demos registered for and of course, leads that became clients.
Do you have any tips on creating content that converts leads into sales? We'd love to hear from you on Twitter @Feed_Otter!