Finding an RSS feed URL for a website is useful for a variety of reasons such as staying up-to-date on everything that a website publishes or promoting your content via social and emails channels using tools like Hootsuite or FeedOtter respectively.
While incredibly useful, it can sometimes be hard to find as an RSS feed for a website. We created this helpful post to show you where they hide on some of the most popular website CMS platforms such as WordPress, Drupal, and Expression Engine. Even if you aren't sure what CMS technology a website is using these tips will help you better understand the world of RSS feeds and syndication, and help you find an RSS feed.
What is an RSS feed?
An RSS, or Really Simple Syndication, is a simple text file of content on your website that automatically updates when content is added. RSS feeds are universally supported in web standards and allow applications and users to follow updates from a website's content. Check out our knowledge base article for more information about how FeedOtter uses your RSS feed.
What does an RSS feed look like?
RSS feeds are "Nodes" that show title, description, images, links, published date, etc. Here's an example of our RSS feed.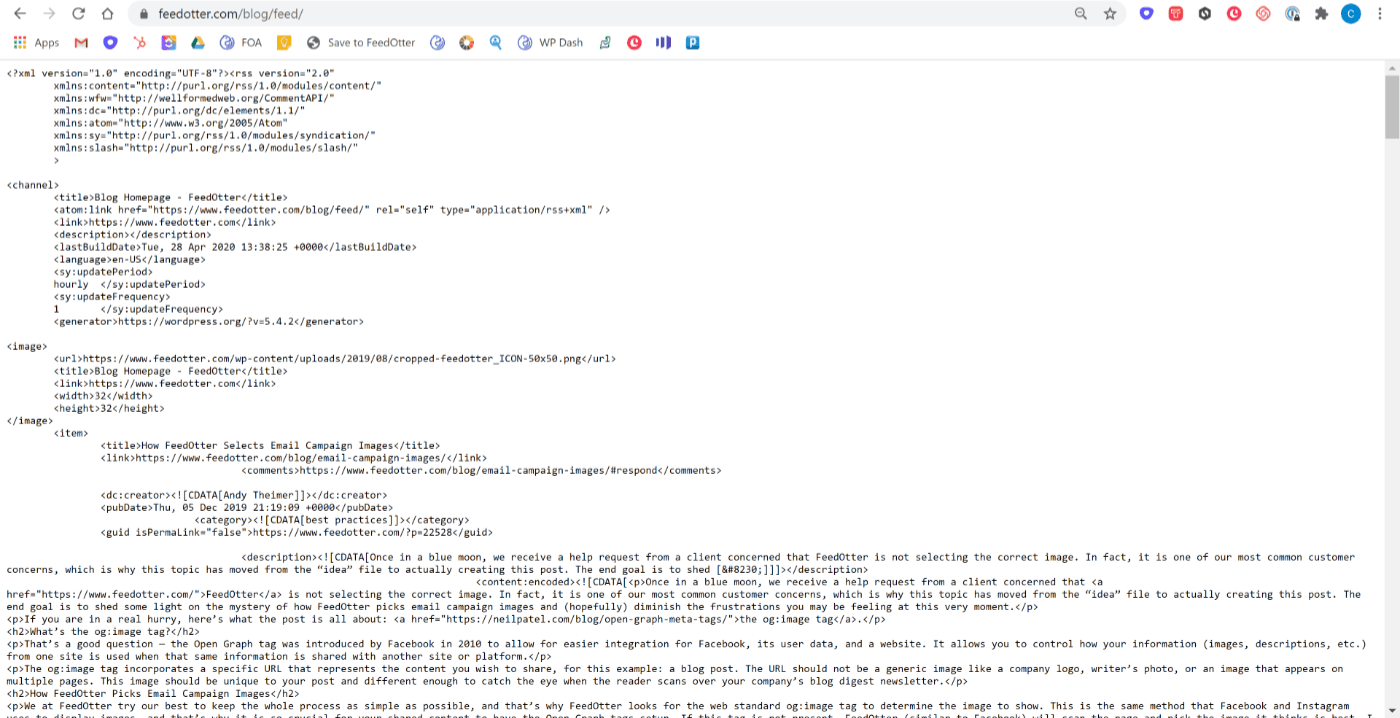 Common RSS feed URLs
When trying to find an RSS feed, start with the most common URLs for your page. Many websites have a feed tag that can be appended to the base URL.  An example is any website built on WordPress where the RSS feed typically looks like this:
https://website.com/feed/
https://website.com/category/feed/
https://website.com/tag/feed/
Where "feed" is appended to the end of the website, blog, category, or tag URL. If your website is running on Drupal or Expression Engine it might look like this:
https://website.com/blog/rss.xml
Many websites also have a simple plugin which will take you to the RSS feed. Typically, RSS feed plugins are located near social icons on your page.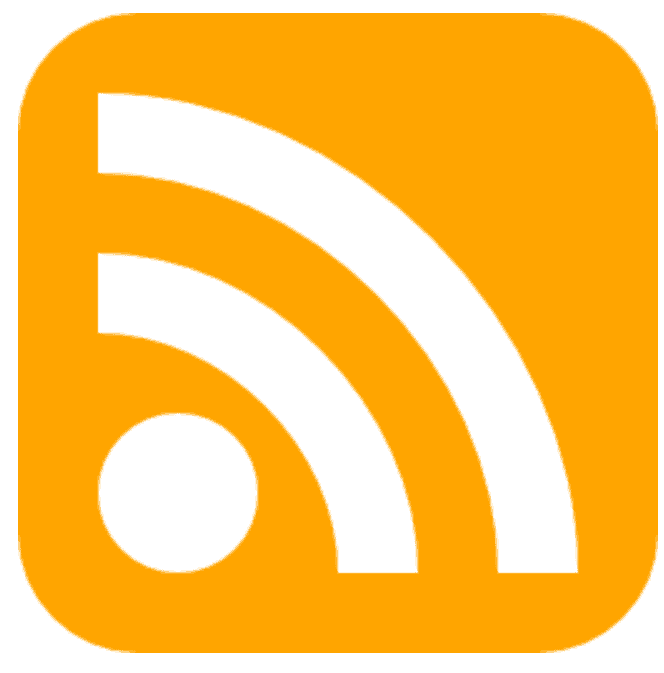 1. Find the RSS feed of a WordPress website
Update 1/30/2020: This article has even more great tips and references for where to find an RSS feed in WordPress. A highly recommended read.
The WordPress CMS powers more than 30% of the Internet, so if you're trying to find an RSS feed of a website your best bet is to assume the site is WordPress and try the following options:
Add "/feed/" to the end of the website URL.

So https://www.feedotter.com becomes https://www.feedotter.com/feed/
and when we enter this in a browser it shows us an RSS feed.
Add "/rss/" to the end of the website URL.
While not as common as "feed" some sites will cough up the RSS feed URL when you append "RSS" to the end of the URL as well. If the first option doesn't work, this is a good second tactic to try.
Find an RSS feed URL for a particular category or tag of content
WordPress by default creates RSS feeds for everything, so you can also find RSS feeds for various categories and tags of content. Here is an example of how to find category and tag content on a WordPress site.
To find an RSS feed URL that contains only content from a specific category the URL would look like:
https://www.rubicly.com/category/content-creation/feed/
In this example the category is 'content-creation' and the standard WordPress trick applies of "adding /feed/ to the end of things" gives you an RSS feed URL.
It is exactly the same for a WordPress tag RSS feed:
https://www.rubicly.com/tag/b2b-content-marketing/feed/
2. Find an RSS feed via website source code
Looking at the HTML source code of a web page is another great way to quickly find the RSS feed.
Let's navigate to the Pardot blog at https://www.pardot.com/blog/
Right-click on the website's page, and choose Page Source. In the new window that appears, use the "find" feature (Ctrl + F on a PC or Command + F on a Mac), and type in RSS. In this case, the correct RSS feed is https://www.pardot.com/feed/
Note: It is very common for websites to offer a second RSS feed full of blog comments.  These are typically not useful so be careful to skip any feed URLs that have the word 'comments' in their tag.

3. Finding an RSS feed URL for Joomla, Drupal, and Magento websites
While WordPress powers much of the web there are several other CMS systems that are less RSS-friendly.
A quick look at the market share of most used CMS platforms reveals that Joomla, Drupal, and Magento all power significant parts of the web.

Unfortunately, these CMS systems don't enable RSS by default which means the site operator must explicitly create or enable an RSS feed that displays some or all of the site's content. If you know your website is running Joomla, Drupal, or Magento your best bet is to examine the source code of key pages (homepage, blog page, newsroom) and search for "RSS".
If you are reading this and working on your own website you may need to ask your website developer to enable and/or create an RSS feed for you. Here are several steps to help you create custom RSS feeds should this be your objective.
How to Create an RSS feed URL for your Drupal 8 website
This great video walkthrough of how to create RSS feeds in Drupal is quite helpful. It's up-to-date (as of 2019) and illustrates how to turn any bit of Drupal content into a custom RSS feed.
Create an RSS feed URL for your Joomla website
For Joomla, it is recommended to install an RSS plugin such as gsRSSFeed. This plugin will make setting up an RSS feed in Joomla as simple as possible.
Step 1: Go to the RSS Feeds section on Joomla.org.
Step 2: Download gsRSSFeed or another plugin of your choosing.
Step 3: Install gsRSSFeed via the Joomla installer.
Step 4: Go to Components >> gsRSSFeed and click "New"
Step 5: Fill in the information requested. Most of these fields are self-explanatory. You can happily just give your feed a name and click save.
Create an RSS feed URL for your Magento website:
Magento is an online storefront CMS used for eCommerce. Magento has some great RSS functionality built-in and excellent documentation on how to create custom RSS feeds, such as:
Setting Up RSS Feeds for Magento Version 1
Settings up RSS Feeds for Magento Version 2
eCommerce RSS feeds are super useful and can be used to tell customers about new products, specials, or even automate product-filled newsletters using a tool like FeedOtter.
4. Find an RSS feed for Expression Engine websites
While not holding a significant percentage of market share, the CMS Expression Engine is one of the most popular among business websites. If you are looking for the RSS feed from a company blog or newsroom, the following tips may be helpful.
These resources will help you set up RSS for ExpressionEngine:
In Conclusion
While most sites on the web have an RSS feed to help promote and syndicate their content it is not always the case.  Hopefully, this guide provided some insight into where RSS feeds most commonly reside and how to set them up if you're working on your own website and how to find an RSS feed.