Background
Genesys® is the global leader in cloud customer experience and call center software solutions to thousands of organizations of all sizes and levels of complexity worldwide. Headquartered in California, Genesys has more than 5,000 employees worldwide and delivers more than 70 billion remarkable customer experiences in over 100 countries every year.
Like other enterprise software platforms, Genesys relies on its blog content to regularly communicate with prospects and customers via RSS email and keep them returning to its website for the latest news and updates about its offerings.
After recently switching email service providers, Genesys was eager to find a solution it could use to deliver RSS content from their blog in a personalized, localized way, complete with reporting and tracking.
The Challenge: Customizable Global RSS Content Distribution
One of the company's largest pain points was a need for global content distribution. Most ESPs do not have feature-rich RSS email functionality. The Genesys marketing team needed a tool that could allow dynamic RSS emails in various global languages. This required customization on many levels.
The Genesys marketing team's ability to create unique calls to action (CTAs) and custom email designs was limited. The team created a 'must-have' list of requirements for its new solution:
Automate regional emails to send when new content is published—and in that region's language
Customize unique CTAs because the content is region- and language-specific, and they needed to reflect that
Customize email design and HTML to ensure content and images look great across all regions and email clients
Track and report email metrics within Eloqua and website traffic in Google Analytics
Easy to implement and low maintenance — essentially "set it and forget it"
The Strategy: Automation at Scale
The main goal for Genesys when it began its FeedOtter implementation was the ability to quickly scale and automate its global email programs. The Genesys team started small by creating a limited number of automated, custom emails.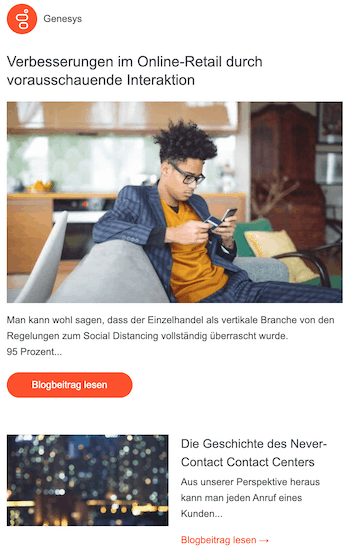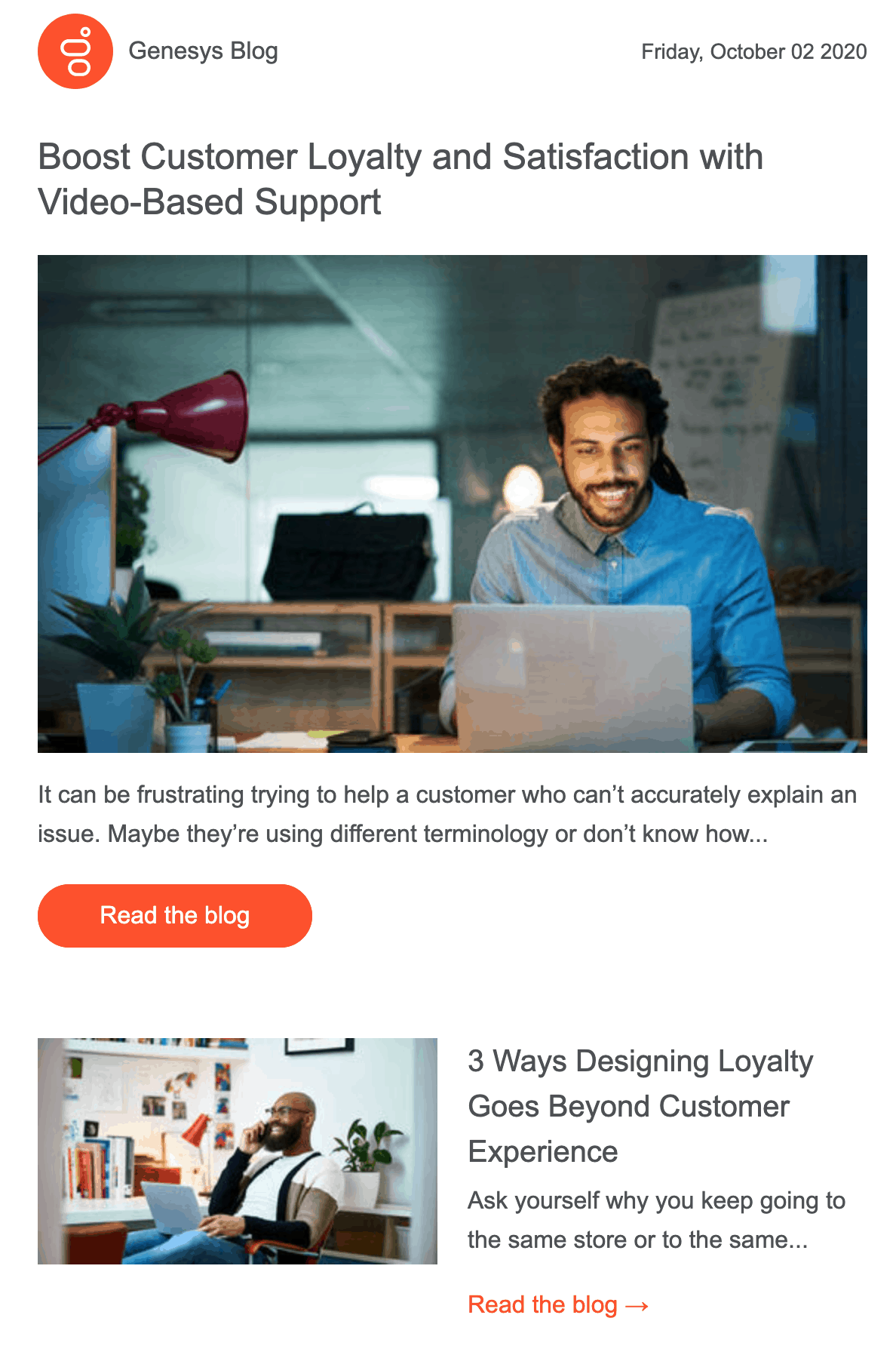 Examples of their customizable, global RSS content emails. 
Once the FeedOtter solution proved effective and enabled the team's flexibility to format and edit CTAs and content for every global region they serve, they ramped up to 25 unique automated emails localized for 11 different markets and distributed to thousands of audience members weekly.
Results
With FeedOtter, the Genesys global team can gain more visibility to their blogs, with triggered emails actively searching for new posts. This added functionality has allowed Genesys to build more strategic campaigns incorporating blogs, and more regional teams are now focused on relevant content output.
FeedOtter's ability to measure email performance has helped Genesys create a baseline in open rates and click-through rates. Because a unique email is sent each time to a contact, the Genesys team can now evaluate spikes in performance and dips, have consistent performance, and track open rates and click-through rates.
"Sending a unique email into the instance every time it deploys does allow us a little bit more granularity into the email performance. Having these unique emails in the automation has been helpful for reporting and feedback" — Ben Carlisle, Marketing Automation Specialist, Genesys
Within the first three months of integrating FeedOtter, Genesys saw:
A

227% increase

in website visitors

A

257% increase

in new site visitors

A

157% increase

in web sessions from their RSS content emails
Want to learn how FeedOtter can help you save hours of email creation time and create scalable email programs? Reach out to us today!
Related Success Stories: