Online forms are a great way for entrepreneurs to collect essential data for their business. It's amazing what you can learn about your customers by asking them to fill out a simple form or how easy it is to increase your email subscriber list by posting a sign-up form on your website. However, form data is also an excellent way to automate data and create conclusions to help your business move forward.
Because of their popularity, there is a variety of WordPress and other website form options available for small business owners to choose from. Below we've explored several of the most popular options so you can choose which type best meets the needs of your business. Also, there are some best practices it's important to observe when implementing any type of form data collection.
4 Reasons Why Should You Use Forms on Your Website

1. Form Data Helps You Get to Know Your Audience Better
Most business owners have a general idea of who their target audience is, but you can collect essential data to support your assumptions by implementing forms on your website. Form data is a great way to learn exactly who your audience is and what they're interested in, which you can then use in reports or strategy meetings in the future.
Consider asking customers what products they like and what interests they have, what they like best/least about your website and their opinion(s) on your product and services. Again, you can then use that data to better target your marketing, which will, in turn, increase conversions on your site.
2. You Can Use Form Data to Learn Where Website Traffic is Coming From
Forms are also a great way to better focus your marketing efforts when you use them to find out where your website traffic is coming from. Are most of your visits from organic searches, referrals, or social media, etc.?
Don't be afraid to use a form to ask customers how they came across your site, and then use that data to determine which area(s) you should spend more time on when revising your marketing plan.
This will save you time and money by keeping you from wasting precious resources advertising in places that won't reach your customers. It can also be more focused and accurate than Google Analytics if you choose to include a form on a Thank You page or some time after a certain part of your sales funnel.
3. Forms are Inexpensive, Fast, and Easy to Implement
Online forms are incredibly cheap and simple to use on your website. There's no need to purchase stamps or paper supplies in order to mail your consumers surveys to fill out. You also don't need to spend a ton of time or resources entering and analyzing data because most form data can be downloaded and sorted automatically. That frees up more of your time to spend brainstorming how you can best use that data to improve your business practices.
4. Forms Can be Helpful When Looking to Increase Your Email Marketing Subscription List
Email marketing is an easy and effective way to reach your target audience with product information, sales, and special incentives, so it makes sense that most entrepreneurs are always looking for ways to increase their email subscriber list.
That being said, the law requires business owners to ask permission from their customers before signing them up for email marketing. Many people are hesitant to give out this personal information for fear that it will be mishandled.
Creating a form on your website that makes it quick and simple for people to submit their contact information is a great way to gain more subscribers. It's easy for the customer, and if you pair the form with some kind of incentive for signing up, most likely you'll get a favorable response from your consumers.
3 Form Data Plugin Options to Get You Started
1. Gravity Forms
Gravity Forms is one of the most popular form plugins from WordPress. It's easy to build and set up right there on your website, and it has extensive customization capabilities. It's affordable — the cheapest package is only $39 per year, and it integrates well with a variety of other programs, including Campaign Monitor, MailChimp, and PayPal.
You can use it to create surveys, quizzes, and even a website directory. This is a great option for any business owner who wants to build their own forms but still have a powerful, versatile option that can be customized to meet their business's needs.
2. MobileCause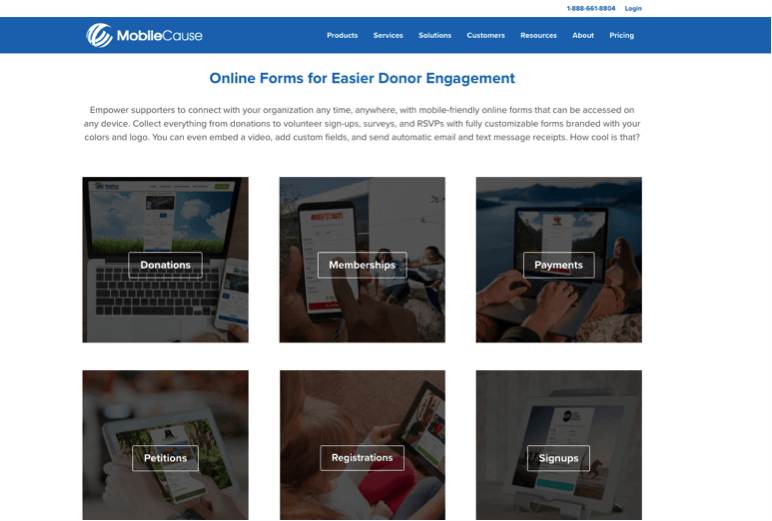 MobileCause is a great form option for nonprofit businesses and organizations. Their forms can also be used to conduct surveys, and also, you can use them to collect donations, keep track of RSVPs, and sign up volunteers.
They're mobile-friendly and can be accessed from any device, and they can be customized to work specifically with your nonprofit's goals. You have the option to include videos and automate emails and text messages to better serve your volunteers and contributors.
3. FormAssembly
One of the best features of FormAssembly is its connectedness with Salesforce. The form data can automatically be downloaded and submitted to the Salesforce CRM for straightforward record-keeping and statistic gathering. In addition, the page layout builder is easy to use and makes web design simple.
You have the option to create forms from scratch or use a variety of templates provided by FormAssembly based on the needs of your business. If Salesforce is a big part of your business success, you'll definitely want to consider adopting FormAssembly for all your form data collection needs.
Best Practices When Implementing Forms
You definitely want to optimize your forms to collect the best form data and information; otherwise, you'll just be wasting your time and your customers' time. Some ways to do this are by:
Creating a compelling headline that engages customers and makes them want to fill out the form.
Making sure the form is easy to understand and fill out. You can do this by grouping similar questions and making sure all your questions are phrased in the most straightforward way possible.
Giving respondents confidence about sharing their information; sometimes, this is the biggest hurdle you'll need to overcome because not everyone is comfortable sharing their personal information. Consider requesting an email address over a phone number, and reassure your customers that you won't sell their information to a third party for any reason. Explain exactly what you plan on doing with the form data you collect, and then stick to that.
Only request the most pertinent information necessary. This way, you won't overwhelm them with a long survey full of unnecessary info that you could potentially ask for later, and customers will have plenty of time to answer the important questions with the detail that you need to be successful.
Offer an incentive! I can't stress this enough. Consumers will be much more likely to help you out by filling out a form and sharing their information if they receive something in return. It doesn't have to be anything huge; a discount or a free gift would be sufficient. Just make sure it's not something they can earn another way, or they'll have no reason to fill out the form.
Have you had success capturing form data on your website? What form data do you find most useful to collect? Is there a specific plugin that you love? Comment in the section below!