As a content marketer, one of your most valued duties includes creating content and sharing it. However, using different marketing software may present as your biggest challenge—especially when it comes to free email builders.
Picture this, you're up against a tight deadline to launch an e-newsletter containing this month's featured content, but you've run into a snag because your email template just doesn't translate the way you imaged or worse isn't rendering correctly. How do you know which free email builders to use? And how can you quickly use your new email designs in Pardot?
If you've ever found yourself in this scenario, this blog is for you! By the end of this piece, you will know how to use the top free email builders and how to import your new design to use in Pardot.
1. BEE Free
BEE Free is one of the easiest free email builders to use. You can drag and drop content into email templates, including buttons, text blocks, images, and more. With BEE Free, marketers can design sleek and modern emails with ease. This site also offers a way to export HTML to transfer into email marketing platforms.
To begin building your email template, head over to the BEE Free homepage and "Start Designing". The site will prompt you to start your own design from scratch or select a template where you can filter through an abundance of free templates, usage types, and different industries.
Once you've selected a template you're now ready to customize it! The drag and drop email builders give you a seamless user experience. Once you've got the look you desired you want to "Save" the email template. However, if you're using the free version, BEE Free will ask if you'd like to sign up for a paid plan or if you'd just like to download your template—you want to choose to download it.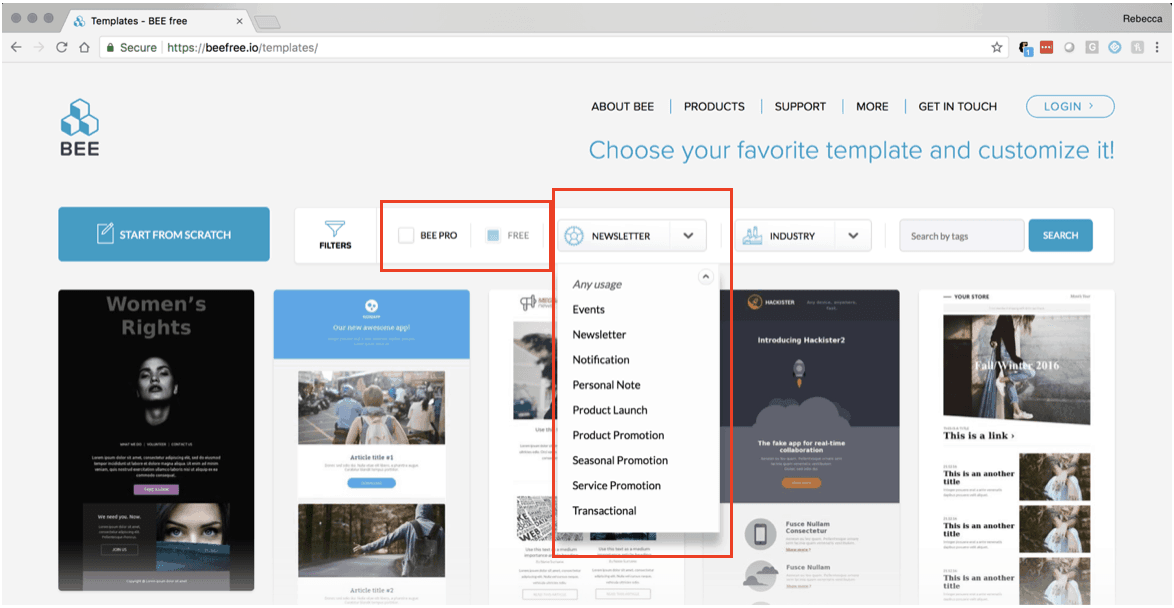 After selecting to download the email, a zip file should load where you will find an image (holds all the images to the email template) and .html file. You'll want to open this file and right-click to reveal the drop-down for "View Page Source". This will allow you to view the code of the whole page. This is the code we'll later copy and paste into Pardot.
In the Pardot email builder, you'll want to paste the code from the page source into the HTML tab in Pardot.
*Note: You may receive the following alert: HTML message: An unsubscribe tag (%%unsubscribe%% or %%email_preference_center%%) is required somewhere in the body of the email. This can be done by highlighting the text you'd like to link for unsubscribers and selecting the hyperlink icon to choose the unsubscribe tag as the link type.
Once the HTML code is added I suggest previewing your email template and making revisions. Please note if you're adding images to the BEE Free email builder, you will need to re-add them to the Pardot template.
2. TOPOL.io
Similar to BEE Free, Topol.io is a free email builder that allows users to easily design emails with a drag and drop tool. In comparison to BEE Free, Topol.io does not provide as many free email templates. One feature Topol.io does better is the process of exporting the email HTML. Topol.io automatically creates a download of the .html file, rather than a zip file.
After selecting your email template to design, you'll want to "Save & Download", which will prompt an automatic download of the HTML. From here the same process as stated above should be followed to import the email HTML into Pardot.
3. Stripo
Unlike the other two free email builders, Stripo requires users to sign up for an account. This email builder also caps off at 4 free downloads each month. However, Stripo.email resets the download limits every month. By selecting "Email Templates" in the navigation bar, you're able to select from numerous free email builders and filter by type, industry, and season.
"Try Out" your email template once you've selected the right fit and begin to make your revisions. When you're ready to export the HTML, save the free template which will then prompt you to create an account.
When your new account has been registered you will be brought to an overview screen of your email builder templates. Select the one you'd like to export the HTML and proceed with selecting the "Export" button > HTML > Download HTML file.
Not a Pardot user? Here's a similar article for free email builders for Marketo.