When it comes to WordPress plugins, there certainly is no shortage of available options. There are thousands of plugins available to help you improve and run your website more efficiently. And like most marketers, you're most likely constantly seeking new ways to optimize your website for SEO, which is where the plugins come in handy.  Though there are many WordPress SEO plugins, two, in particular, stand out: Yoast and Rank Math.
Yoast is the most popular WordPress SEO plugin with — according to their site — over 135 million downloads. Helmed in the early days of SEO in 2003, Yoast has maintained its status as a reliable, tried-and-true SEO with thousands of positive reviews to boot.
Founded in 2019, Rank Math is a relatively new tool that has quickly earned a reputation as a valid competitor to Yoast. Because of its young age, Rank Math has not achieved popularity as Yoast has (yet). However, the reviews of the plugin are positive, and they report over 500,000 users.
Which one is better? In this blog post, I seek to answer that question by analyzing and comparing both Yoast and Rank Math's key features.
The Ultimate WordPress SEO Plugin Comparison: Rank Math vs. Yoast
1. Keywords
As marketers, we know the key to effective SEO is using high-ranking, targeted keywords in our content. Similarly, the first step in targeting high-ranking keywords is to create high-quality content that Google and other search engines look for.
Both WordPress SEO plugins make it easy to optimize content with their targeted focus keyword tool. With Rank Math, you can target up to five keywords; with Yoast, you can only target one (though if you're using the premium version of Yoast, you're able to optimize for two keywords).
A plus in the Rank Math column is that it gives you keyword suggestions once you start typing the keyword in the "focus keyword" textbox: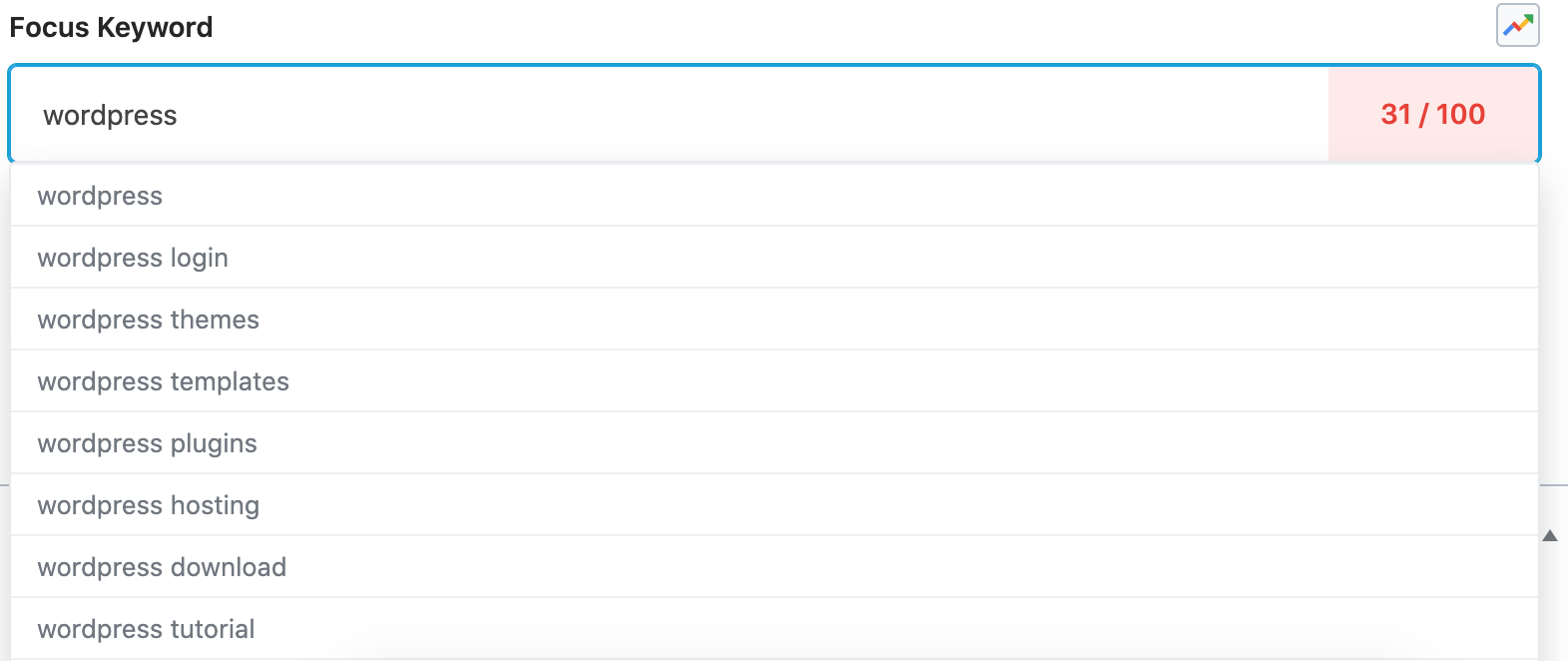 Each WordPress SEO plugin does a good job of helping you identify and target your focus keyword. Both do a check to see if you're using your keywords the correct number of times and if your keyword shows up in the right places — for example, the title, the description, the URL, etc.
The Winner: Because you can target up to five keywords and get keyword suggestions on a free version, Rank Math is the winner of this round.
2. SEO Scoring System
Each WordPress SEO plugin has different ways of scoring your content. Things that are considered are title text, meta description, focus keyword, content readability, image alt text, length of the content, and many more. 
Yoast
PROS: Yoast provides helpful tips on how you can improve your SEO ranking.
CONS: Unlike Rank Math, it isn't as clear what your score is. You either get a frown face (bad), neutral face (ok), or smiley face (good).
Yoast also only knows exact keyword matches. In this example, I used our blog post, 6 Stellar Ways to Automate Holiday Marketing Emails. Because Rank Math can pick up in slight variations of keywords, I used 'automate holiday marketing email' as the focus keyword because I could either use 'email' or 'emails,' and it would rank accordingly. I received a' bad' score with Yoast until I pluralized the focus keyword to 'automate holiday marketing emails,'
Rank Math
PROS: Gives you a score out of 100, which I personally prefer over Yoast's ranking system because it assigns a more tangible value and way to improve your score.
CONS: No discernible cons at the time of publication.
It's important to remember that the colors and/or numbers aren't the only thing that matters at the end of the day. While they help guide you in creating SEO-friendly content, your content shouldn't solely focus on getting a green light or a 100. Focus on creating engaging, easy to read content that your audience craves, and less on whether or not an SEO WordPress plugin thinks it's great.
The Winner: In this round, I have to give it to Rank Math for their flexibility regarding keyword matching and their numbered rating system.
3. Pricing
When it comes to pricing for each WordPress SEO plugin, both Rank Math and Yoast differ greatly.
Yoast offers a freemium version of its platform to WordPress users and has a paid version that starts at $89/month.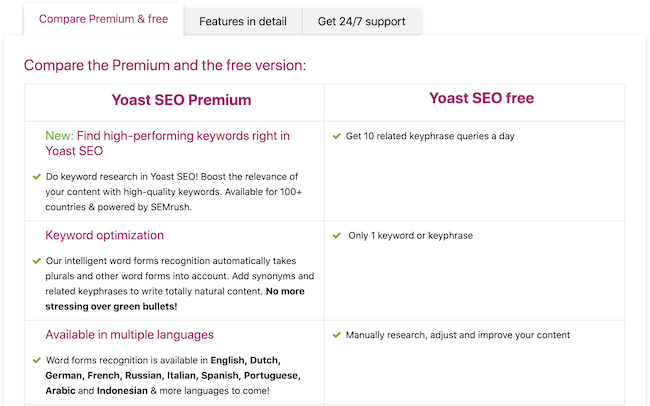 Comparatively, Rank Math is completely free — for now. Their website promises a paid PRO version later in 2020. Until then, the free version continues to offer some capabilities that you have to pay for with Yoast.
As mentioned in the example above, you can target up to five keywords with Rank Math compared to only one with the free edition of Yoast. Further, their website outlines 68 benefits of their product and a comparison table of features, a snippet of which is here: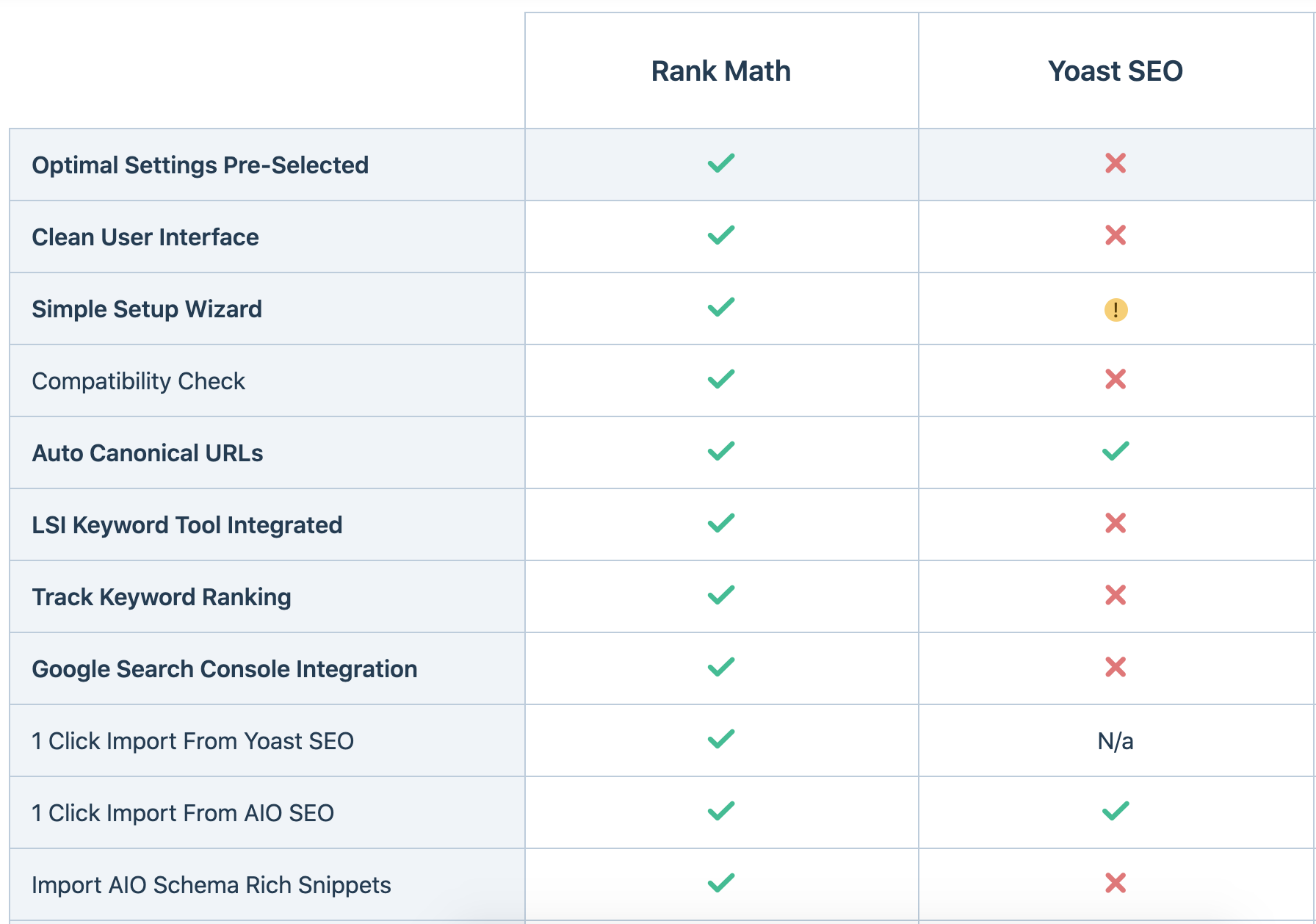 For the full table, click here.
The Winner: For now, I think the winner is Rank Math because of their free platform and features. We'll see if that holds up once Rank Math rolls out their paid version.
4. XML Sitemaps
An XML sitemap acts as a directory by listing all of a website's important pages to ensure that search engines can find and crawl them all. The crawlers work on indexing your site and placing it in the search engines.
The easier it is for search engines to crawl your website, the higher you'll rank, which is where your high-ranking keywords come into place. So, to best optimize your website using a WordPress SEO plugin, you should create a sitemap. 
If you don't know if your website has a sitemap or if it does not, don't worry. Both Yoast and Rank Math generate the sitemap of your website automatically — you need to tell them to do so, which is easy, and both plugins include this step during their setup wizards:
The Winner: It's a tie in this round due to both offering this feature and making it easy to set up.
5. 404 Errors And Redirect Manager
Every once in a while, your site may have a"404 – page not found" issue due to some broken links. A bonus to both WordPress SEO plugins is that they both can detect and fix broken links and help you easily fix and redirect links.
With Rank Math, the 404 monitor is included in their free offering, whereas with Yoast, you only get this functionality with their premium version.
The Winner: Rank Math since it is included in their free version.
6. Google Search Console Integration
Google Search Console integrations are becoming increasingly popular. As such, it's become an important consideration when selecting a WordPress SEO plugin.
Rank Math offers a much easier integration. Just like the sitemap, you set up the Search Console integration during the setup process. All you have to do is input and verify your Gmail account, and it will gather the associated Search Console data directly into your WordPress dashboard.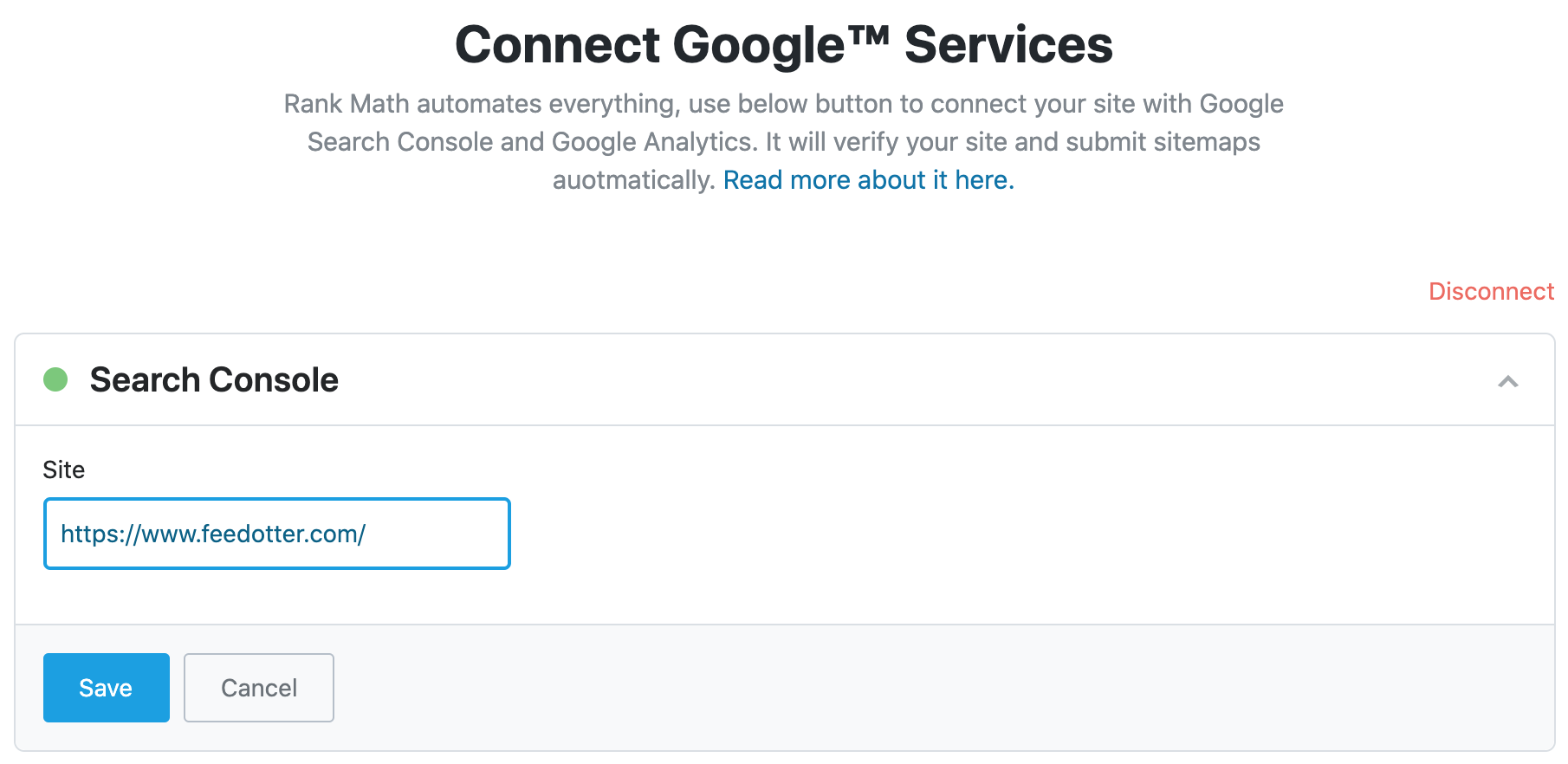 While Yoast also allows you to integrate the Search Console, it does not provide an interface in the dashboard to see your data directly.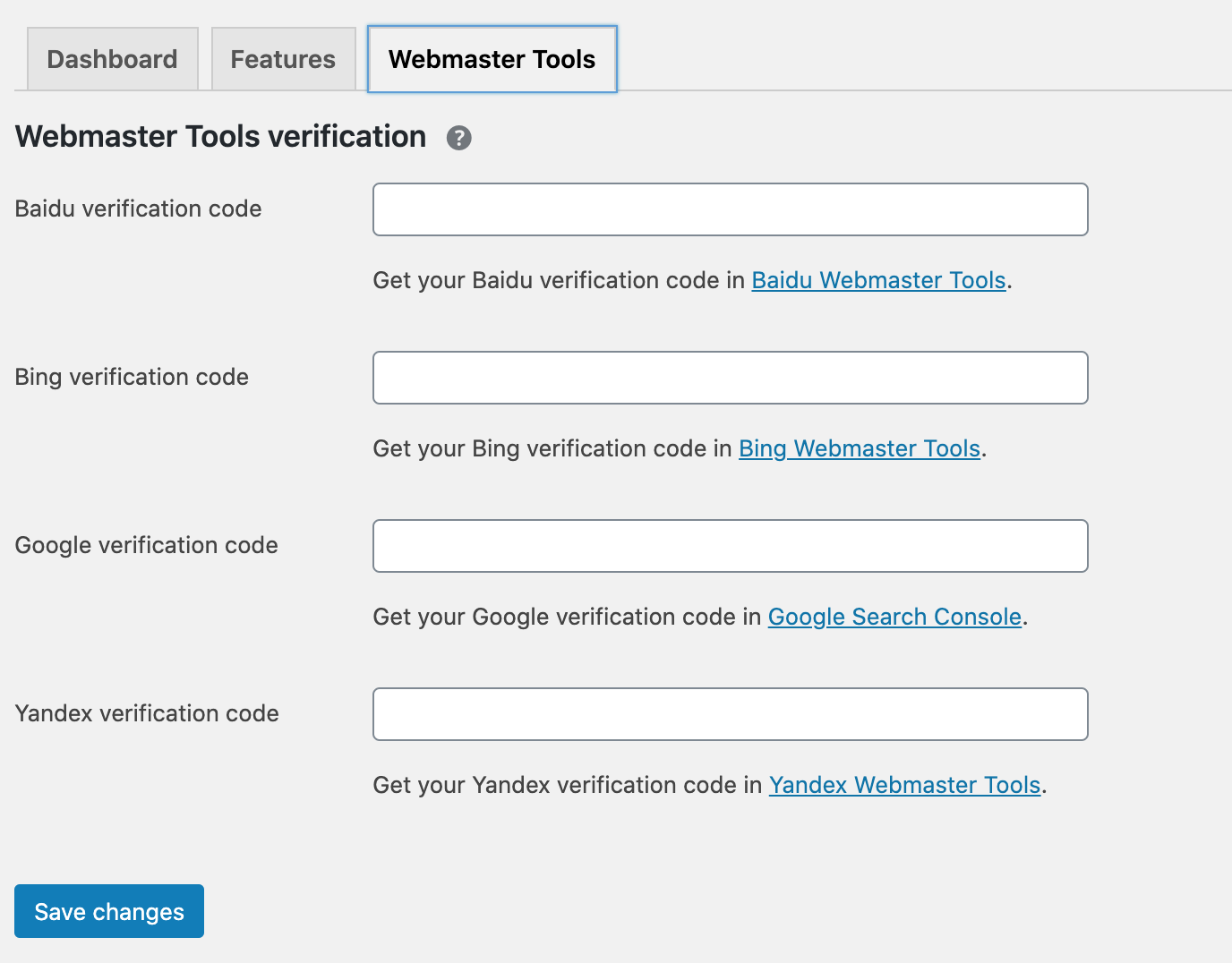 The Winner: Because of the dashboard functionality, this round goes to Rank Math. Anytime a plugin reduces the number of sites visited to get data in a win.
Final Thoughts
Overall, both WordPress SEO plugins offer similar features. Both offer an SEO performance ranking system, a schema generator, and social previews. The user interface on each is wildly different — Rank Math with a clean, intuitive UI, while Yoast looks like it hasn't been updated much since its inception.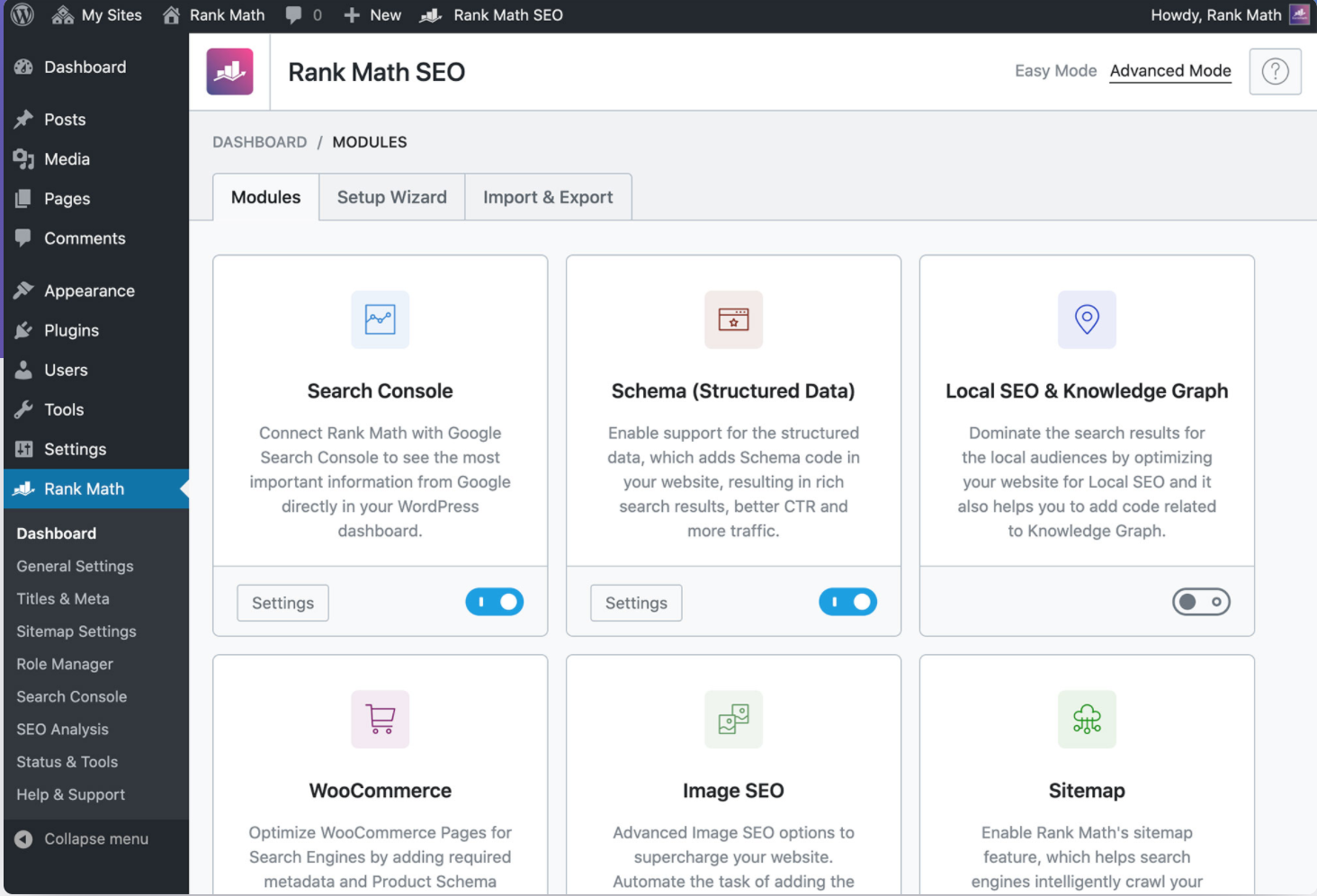 As you can see from our comparison, both WordPress SEO plugins are very good with their features. But Rank Math definitely provides more key features at no cost to the user at all.
At the end of the day, it ultimately comes down to personal preference. However, I would recommend that if you are using the freemium version of Yoast, to consider moving to Rank Math since there are more features available at no cost.
If you're using Yoast premium, it may not be worth your while to switch your WordPress SEO plugin to Rank Math since you have access to more features — perhaps wait and see what Rank Math PRO will offer.
Now, for a drum roll to announce our Ultimate WordPress SEO plugin winner. After tabulating the scores from each category, the ultimate winner is… Rank Math!
It will be interesting to see what, if anything, changes once Rank Math releases its paid PRO version later this year. Will it continue to outshine and offer better features than Yoast? Or will Yoast take note and adapt their features to blow Rank Math out of the water? Only time will tell.