Curated Pardot Newsletter
Create personal, curated newsletters in 10 minutes that are sent from Pardot
Curated Pardot Newsletter Examples
Here are just a few examples of how clients deliver personalized content with curated newsletters.
Curated Product Recommendations
Connect your Shopify, Magento, or WooCommerce product feeds to curate the perfect product recommendation newsletter.
Weekly Recommended Reading
Curating an email newsletter allows you to build your reputation as a thought leader and educate your audience with hang-selected content.
How Does it Work?
Ready to build your first curated Pardot newsletter? Here is a look at how the typical user curates a Pardot newsletter.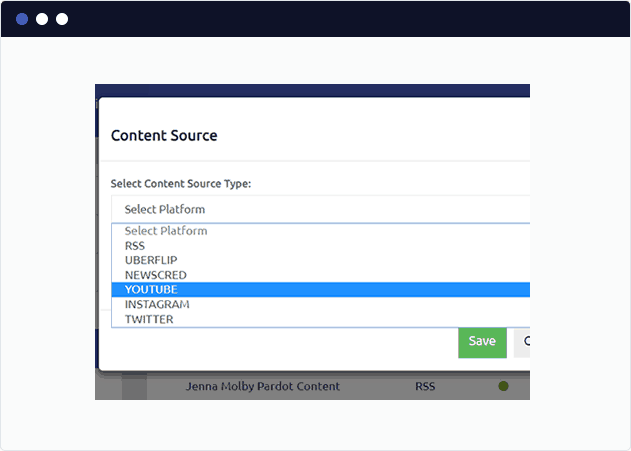 Add your content to FeedOtter
The first step to a great curated email is finding trustworthy, high-quality content.  You can add the feeds of popular blogs, YouTube channels, Instagram users or bookmark any web content for inclusion in your curated Pardot newsletter.
FeedOtter also supports pulling content directly from popular content marketing products such as UberFlip and Newscred.
You only need to add your content sources 1 time.  Content from these sources will be available to all curated newsletters in your account.
Start Curating!
FeedOtter makes it easy to select posts from your content sources, re-order them, and preview how they look in our included curated newsletter templates.
You'll curate your first email in 10 minutes.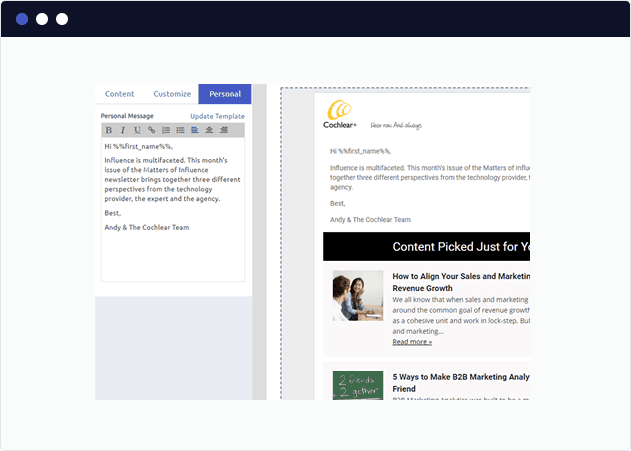 Personalize
One key to a successful Pardot curated newsletter is personalization.  One of our favorite ways to accomplish this is to add a personal greeting at the top of your curated newsletter.  This personal greeting should include:
The first name of the recipient, merged in from Pardot using the %%first_name%% Pardot merge code
A 2-3 sentence message highlighting posts in this issue as well as any other timely, relevant and personal bits
A signature such as "Andy and the FeedOtter Team" or even better an actual multi-line email signature
Proof and Send
At any time during the email creation process you can send yourself "proof" emails directly from FeedOtter.  This allows you to test your email and show your colleagues how awesome it looks!
When you're ready to publish your email to Pardot for sending our one-click publish takes you directly to a new Email Program and Email ready to be A/B tested, edited, or sent.
Sound easy enough?  Create your first curated Pardot newsletter today.