Inbound marketing takes up tons of time. If you're creating custom content, social posts, targeted emails—it can be overwhelming. Like all other industries, automation has made inbound marketing easier for the average marketer. About 51% of companies use marketing automation, and even more plan to move forward with new technologies. There are tons of programs on the market that allow you to automate almost all your marketing functions; however not all your tasks necessarily need automated.
Not sure which of your responsibilities needs help and which should be done manually? Below are four marketing tasks you should automate, and two you shouldn't.
4 Tasks You Should Definitely Automate
1. Content Promotion and Scheduling
Writing, editing, posting, and promoting your blog content is time-consuming. You could spend less time creating quality content to save time, but that wouldn't benefit you in the long run. Ideally, the best way to cut your time in half is to automate the promotion piece of web content. Here are some ways you can automate blog promotion:
Automatic notifications sent to your subscribers notifying them of a new blog post
Immediately publish blog links to social media platforms
Re-promote to social media accounts on an automatic schedule
The CoSchedule editorial calendar is one good option that will integrate with your WordPress so you can schedule all at once and see your monthly plan (note that WordPress does allow you to schedule, but you need a plugin if you want to see your full calendar).
CoSchedule also has plenty of options for social scheduling for your blog posts specifically as well, so it's worth taking the time to check out and see if it works for your needs. If not, you can find plenty more editorial calendar options for automation here.
2. Social Media
Social media is one of the heavy hitters in the digital marketing world. It's easy to do, and it puts your company directly in the hands of your customers. While it's an easy way to connect with your audience, that doesn't mean it doesn't take up plenty of time. There are tons of ways you can automate your social media tasks that don't make your brand look robotic. This goes along with the last point because many tools do both, but it's up to you which tools work best for your business.
One way comes in the form of Hootsuite, a social media scheduling tool that makes connecting with multiple social networks and followers easy. All your company's social networks are in once dashboard where you can schedule, track performance, and see what is and isn't working for your campaign.
3. Email Marketing
If you're not automating your email marketing campaigns, you're doing yourself and your company a disservice. But automating your email campaign is much more than sending a mass email to all your leads. Segmenting is one of the most effective ways to get your message out to the right audience at the right time.
That's where email automation tools come into play. Here are some of the things you can expect from email promotion automation:
The ability to section your contacts by buyer persona
Easy cleaning of your lists—you'll be able to automatically remove any invalid or spam email addresses from your list
Personalization such as using the contact's name in the salutation and body of the email
Analytics that measure and improve your campaign based on results
Shameless plug, FeedOtter integrates with Pardot and Marketo to help you automate even further and seamlessly create and send emails without continually having to copy and paste your content into your marketing automation software. You can learn more here.
4. A/B Testing
A/B testing seems daunting if you're not familiar with it. However, the use of this type of testing allows your company to generate more lead conversions. Regularly testing your website can uncover opportunities to improve. It also reveals who your ideal audience is.
Automating you're A/B testing gives you tons of information with little effort on your end. Plus, you'll notice even the smallest changes will bring huge results. Here's how A/B automation helps:
You'll be able to test things like call-to-action buttons to see if and how they're working.
You'll also have the ability to test things like images, website layouts, and webpage copy.
Learn how your navigation bars compare—do they work for your customers?
Often these automation tools will tell you exactly what you can do to optimize your website, down to the minor details on your website. This is something that would take a human more time doing. Not to mention this is monotonous work—not something anyone but a computer would want to do. A few great tools include Optimizely, Act-On, and the newest tool, Google Optimize. Below is an example from Loves Data: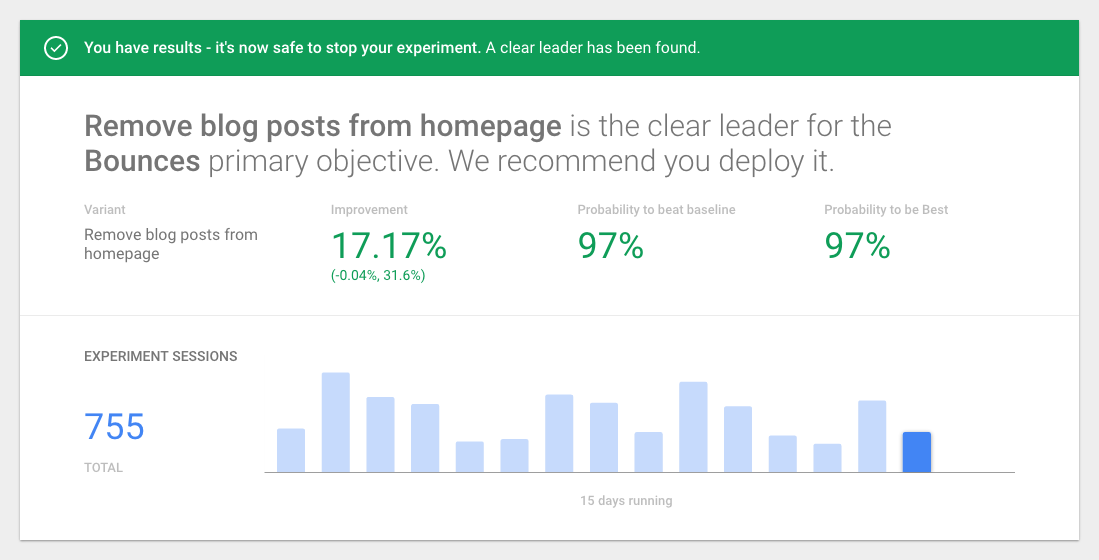 2 Tasks You Shouldn't Automate
1. Engagement
Connecting with your audience is key to a successful marketing campaign. And it's not always easy. In fact, according to a recent Gallup survey, only 29% of B2B customers are fully engaged with the brands they use. So it's safe to say that engagement with your customers shouldn't be toyed with. And automating your engagements won't help.
Customers seek authenticity from their brands. And no software, no matter how it's programmed, will be able to replace human interactions. Plus, having an actual human resolve problems and answer questions is much easier than relying on a robot to do so. Make authentic connections by using an actual human to engage with your customers via social media and beyond.
2. Content
All of your content should be original, handmade, and crafted by an actual human being. There do exist programs that will automatically create social and blog posts. While you should always automate the scheduling (see above!), you'll only create problems if you automate your content. Ever received an automated voicemail or phone call? Those aren't productive (and customers hate them) and neither will automated blog posts or social media posts.
The Takeaway
Like most everything in the world today, marketing automation seems to be taking over. And while it's helpful to use to save time (and money), it's not always necessary. In fact, once you start automating every piece of your marketing puzzle, you start to become robotic—and that's not a good look for your business. As with anything else, there's a time and place for automation. Use your judgment on which of these tasks will help your business the most.
What success have you had with automation in the past? Have you experienced a time automation made things worse? Let us know your story and your thoughts in the comment section below.
Feature Photo Credit: dnaindia.com