RSS Email Automation
Deliver blog, news, and RSS content to your email subscribers.
Define hourly, daily, weekly, quarterly and business day intervals for precise control of scheduled email.
Ability to trigger an email send when new content is published to your RSS feed.
Our ESP and marketing automation integrations mean ALL emails are sent from your existing email platform.
Employee newsletters, job postings, breaking news, investor updates, system notifications and more!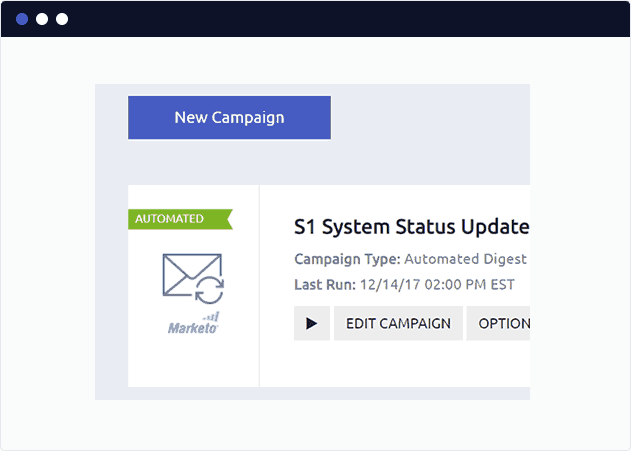 Create a new automated RSS campaign
To create a new RSS email create a new automated campaign in FeedOtter.
Define Email Trigger Rules
FeedOtter supports sending RSS email when new content is found (Alert-style) or on a scheduled interval (Digest). Regardless, FeedOtter supports every possible RSS sending pattern you could want:
Hourly
Daily
Weekly
Monthly
Business Days Only
Every other month/day/hour
All supported!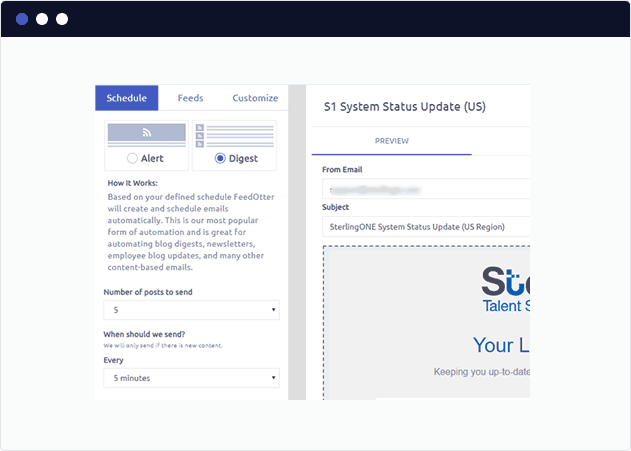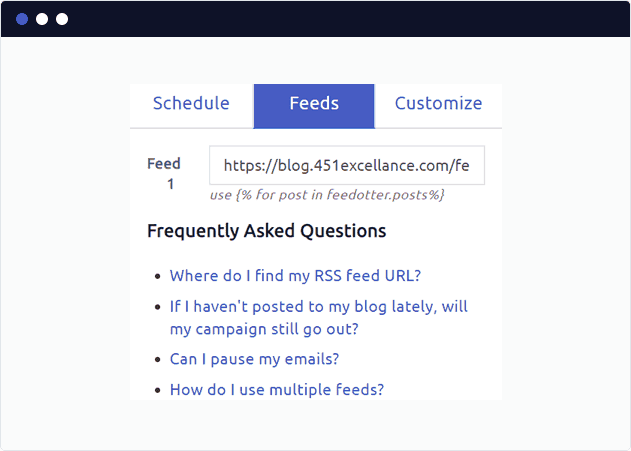 Enter Your RSS Feed Url
We do require a valid RSS feed but RSS is a very common, structured format for online content.  WordPress, Shopify, Magento, Drupal, Joomla and all top CMS products generate RSS feeds for content by default or with the help of an easy to install plugin.
Handy RSS Tools:
Need advanced RSS  or multiple RSS feeds per email?  FeedOtter does that too!  Our client's have created complex multi-category rss emails using our multiple RSS feed features.  A few examples:
Create an RSS email with multiple categories of content -each powered by a separate feed
Create a complex newsletter where blog, news, event, and ebook content are fed into a single RSS email using multiple feeds
Select A Template or Upload Your Own
We have great looking email templates for all your RSS emails!  Don't see a template that fits your use-case let us know and we'll build it for you.
Newsletters
Digests
Product catalogs
System alerts
Job postings
our templates make setup a snap!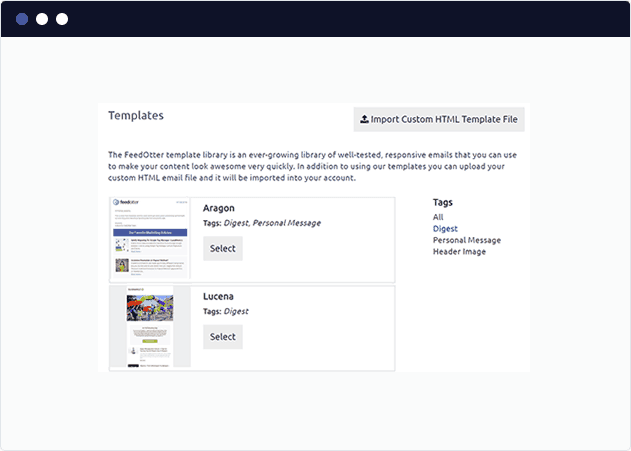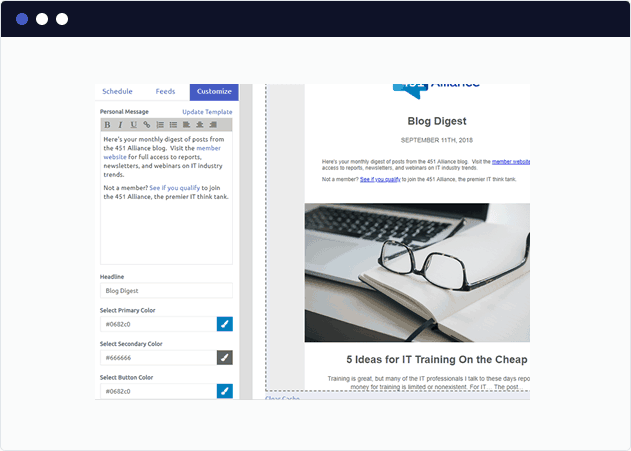 Customize
FeedOtter provides just the right amount of customization to make creating an on-brand RSS quick and easy.  Features vary by template but all templates allow you to:
Upload a company logo
Customize the primary, secondary, and button colors to match your brand
Define the number of word/characters each post blurb should display
Enter your company social media profiles to display icons
Certain templates allow for advanced customization such as:
Headline
Subheadline
Graphical header image/masthead
A paragraph of greeting text
Test, Proof, and Send
You can send yourself a proof email at anytime during the creation process by pressing the PROOF button located in the blog digest editing interface. This is also a great way to test your RSS email using a tool like Litmus.  In addition to testing there are a number of details that our users love including:
Image Processing:
We have built a proprietary image processing technology to make sure your images resize and look perfect in all emails.  No more stretching, shrinking, or missing images.  FeedOtter recommends that you have tags setup on your blog and that all images therein are at least 600px wide to ensure the images in your emails look great -always.  We always prefer to use an tag to ensure the images shown in your rss emails are the same as those shown elsewhere on the web.
UTM Tracking:
It's easy to add UTM tracking codes to the links in your RSS email from FeedOtter.  We have a simple interface that allows you to populate all the UTM spots automatically.  You can even use merge codes and FeedOtter data such as post titles, urls, dates and more.  Seconds to setup with no help required.
Marketing Automation Merge Fields
You can use ANY of your standard ESP merge tokens in your emails.  Wire up a first_name to make things more personal or inject banner ads or attracts for other content and events.