Recently I hosted a webinar on Emailing Your Podcast With Marketo. Podcasting in the B2B space is becoming increasingly popular as a medium for sharing your content and thought leadership. The best way to share that content – emailing your podcast episodes directly to subscribers.
That's why I decided to carve out time to discuss the best practices for creating and emailing your B2B podcast with Marketo. 
Watch the webinar recording here.
I covered topics like:
The basic necessities for your podcast such as branding, a hosting site, and a steady stream of content.

Good examples and options for hosting sites and building landing pages.

The benefits of manual emailing in Marketo versus automating your podcast emails with a third party tool like FeedOtter.
Here are some of the key takeaways:
Podcasts are used in the B2B space for education and public consumption, as well as internally on your team with executive updates, training, and employee interviews.

No matter who's hosting your podcast, publishing to Spotify and Apple is a must for the great embeddable player on your website.

The key to curating easy podcast emails is starting with a great Marketo template.
You can provide your audience with direct connection to your podcast and grow relationships and lead generation with Marketo emails. Let's dive in.
Podcast Basics for Business
B2B podcasts are a great opportunity to engage your audience and communicate in a new way. B2B podcasts are typically customer-focused and personal, allowing more of your audience to connect with your team. It not only allows you to engage your audience,  but it's another means of communication and another chance for SEO.
Your podcast can bring in more traffic to your website once you have an SEO-targeted landing page for the podcast and each episode, providing more opportunities for leads to find your product.
Podcasts can be used for lead generation and engaging current customers, but in the B2B space it's also used for employee interviews, executive updates, training on the go, and department and job functions internally with your team.
What You'll Need
Before you can start emailing your podcast, you need a few basic items to get running and build the foundation of your podcast.
1. Name and Branding
It's important to come up with a podcast name that is adjacent to your content and your brand, so you can continue the lead generation for your product as well as maintaining an engaged audience to your podcast.
2. Hosting
Nowadays there are hundreds of podcast hosting sites you can use to host your podcast episodes. Some free hosting sites include Buzzsprout or PodBean.
More paid options include Libsyn or Castos. Libsyn is typically who we see our customers using to host their podcasts. Castos is a newer, modern hosting site out there as well, although both a great options.
3. Content
In order to maintain a great podcast, you'll need to have a steady stream of content and guests to keep your podcast consistent and relevant. Speaking to some of our customers who have podcasts, we found about 70% of guests are their customers creating a joint marketing venture. The rest of the guests come from leadership roles within the company and other interviews for thought leadership.
Outreach.io has a great podcast example to look to regarding their content and landing page.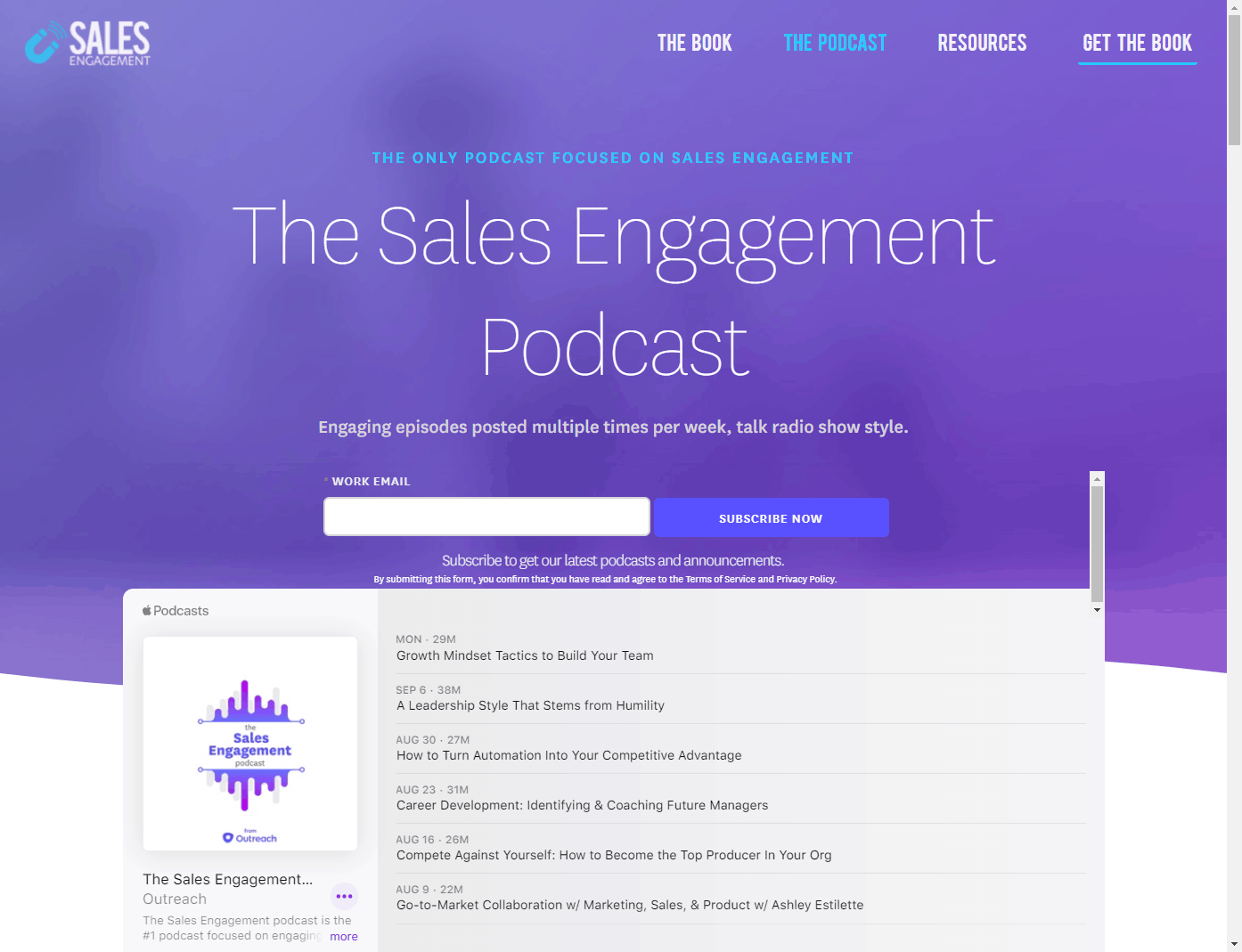 The Sales Engagement Podcast has a nice landing page that is clean, concise, and complete with a subscribe form and embeddable player to view all episodes. Having the embeddable player on your page is perfect for allowing your audience to view your content directly on your website. Here's a guide on using Spotify's embeddable player on your website.
Emailing Your Podcast with Marketo
For emailing your podcast episodes in Marketo, you'll need a subscribe form, your smart list in Marketo, and then a smart campaign and email.
Using Marketo, there are two viable options when sending out podcast emails: automated with 3rd party tools vs. manual emailing in Marketo.
Manual Emailing
There isn't any integration directly in Marketo to automatically pull in content from each episode (such as title, desc, link, etc.) so you'll need to manually change the content with each send if solely using Marketo.
To do this, it's essential to have a well-designed Marketo email template with editable Marketo blocks to quickly and easily swap out content for each send. Here's an example of our Marketo podcast email template.
Download the Marketo Podcast template.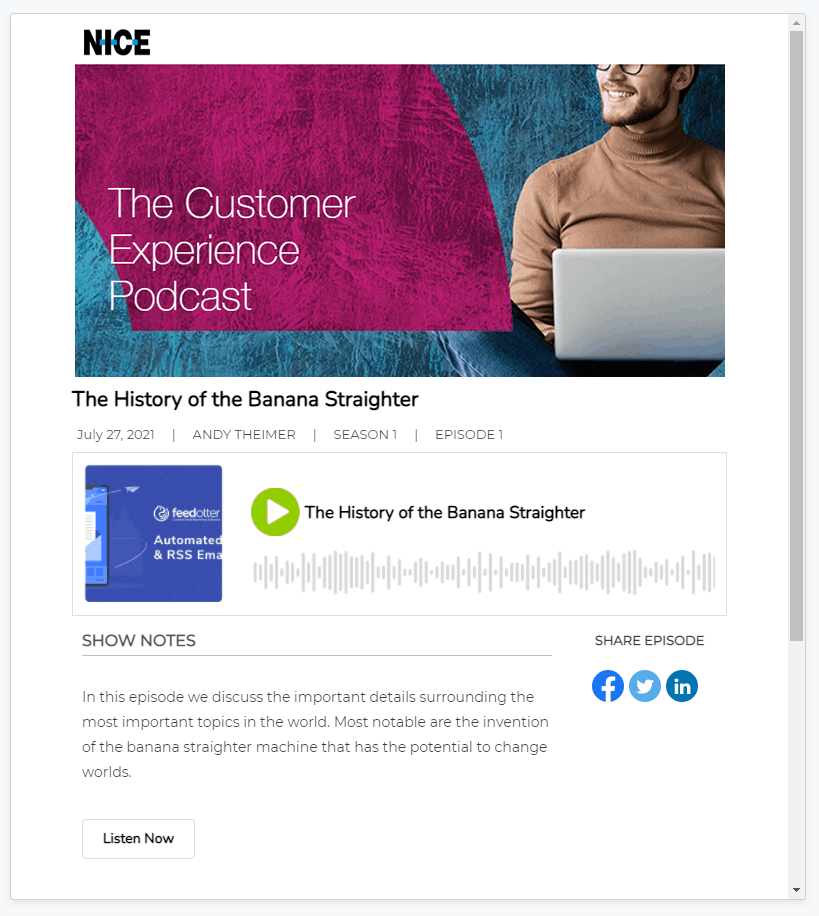 Automated
Since there's no integration directly with Marketo and podcast hosting sites, you'll need to use a 3rd party tool to automate the creation and sending of your podcast emails. FeedOtter allows you to pull contently directly from your hosting sites RSS feed and automatically create and send emails in Marketo every time there's a new podcast episode.
Schedule a demo here to learn more about automating your podcast emails.
Podcasting in the B2B space is becoming increasingly popular as a medium for sharing your content and thought leadership. The best way to share that content – emailing your podcast episodes directly to subscribers. Feel free to reach out to us or watch our webinar for more.