Companies spend a lot of time and money trying to measure everything that happens on their websites. For some reason, they're less likely to take the same approach to their social media efforts. In this article, we're going to give you the tools you need to create a data-driven social media plan for your business.
Taking a Strategic Approach to Data-Driven Social Media
We wanted an insider's perspective on this issue, so we reached out to Jessica Stephens, Inbound Marketing Director at Oktopost, an enterprise-level social media management platform used by brands like Fujitsu and Panasonic.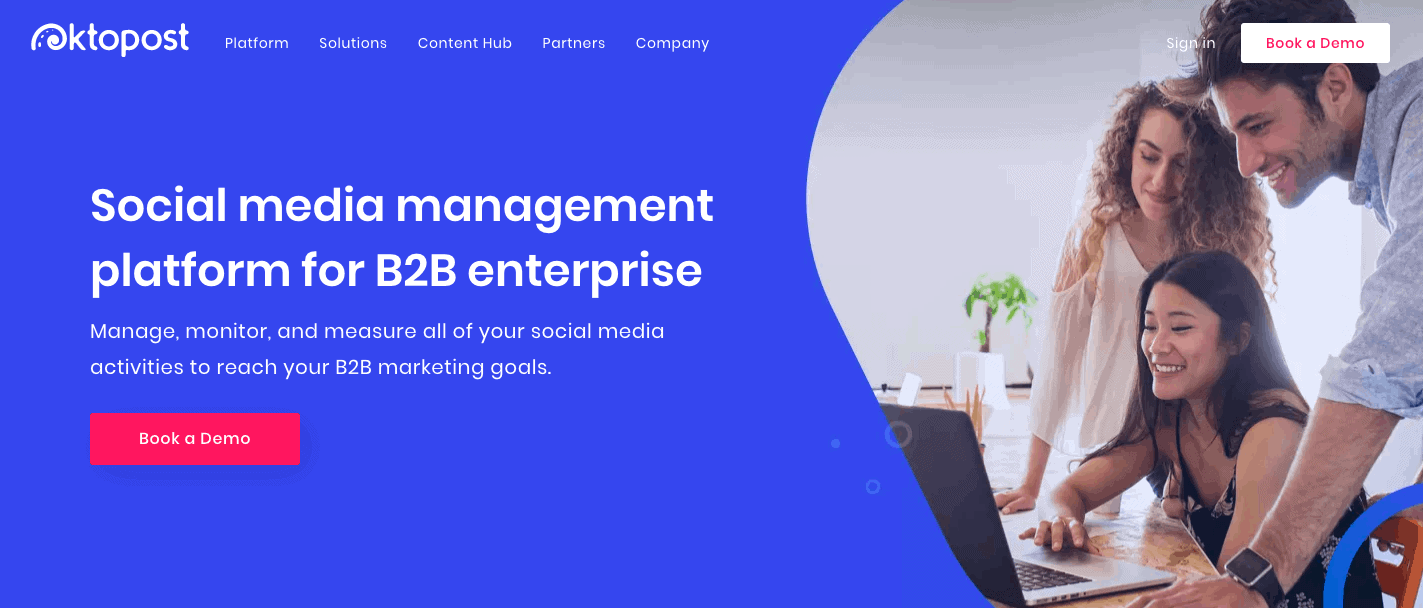 As Stephens puts it: "People tend to treat traditional efforts—like their blog, email marketing, or even a press release — more strategically than their social media networks."
Stephens' advice is to create a data-driven social media plan you'd feel comfortable bringing in front of the C-level leaders — just like you would for any other major marketing effort. 
"We should be planning and playing the same way with social media as we do other marketing channels," Stephens said. "We're all so comfortable with social media, it's easy to be dismissive with it and say, 'Oh, that's just fun branding, not lead gen.'"
But there's another big reason that companies don't track and measure the effectiveness of their social media strategy.
They often lack the knowledge of how to measure the ROI of their efforts.
Three Places to Collect ROI Data for Social Media
A data-driven social media plan starts with collecting data, which you can find in all three of the following locations:
The native analytics built into social media platforms (Facebook, Twitter, etc.)

Google Analytics

The analytics built into social media management platforms (example: Oktopost).
First, we'll address collecting analytics from the source. Then we'll dive into secondary sources like Google Analytics and other social media management tools.
Collecting Data From the Native Analytics Built Into Social Media Platforms
The first place to look is the social media platforms themselves, some of which have reporting tools you can use to see what's happening.
For example, here's what the Twitter report looks like for a business profile:
And this is a standard report from a Facebook company page:
These stats are a good start to being more data-driven, especially if you're most active on one platform. 
But they only show you what's happening on the platform. By themselves, they don't show conversion data from social media, and they're not enough to prove ROI or create a data-driven social media plan across multiple channels.
The Two Other Ways to Track Conversion Data
The next step in building a data-driven social media plan is gathering conversion data from your website.
You need to see:
How many people have come to your site from social media

How many converted to leads or customers.
There are two primary ways to collect that data:
Google Analytics

A social media management tool.
Using Google Analytics to Track Conversions
Google Analytics can show you how many people come to your site from different social media platforms.
If you have goals set up, it can also show you how many people from each platform visited your site and then converted into customers or sales leads.
It does not automatically break out the performance of individual social media posts, however.
To track individual posts, you'll need to manually create UTM campaign tags using Google's URL Builder (or a similar tool) for every link you place on social media.
Campaign codes give you the results of each individual post.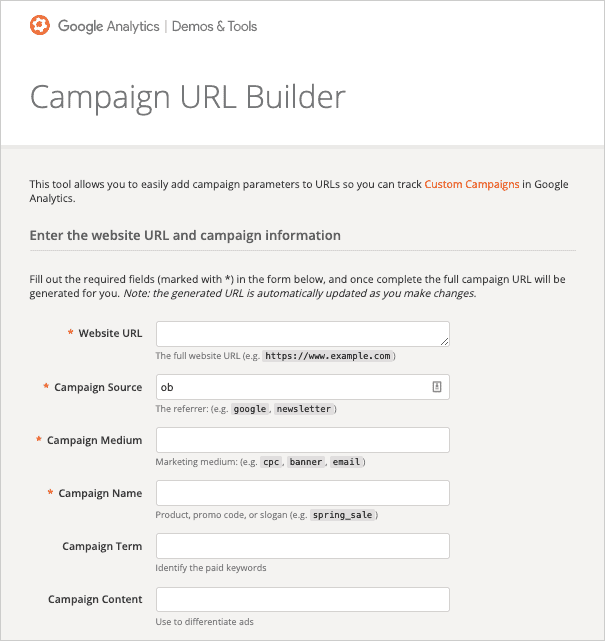 Image source: Google Analytics Demos & Tools
Campaign codes give you the results of each individual post.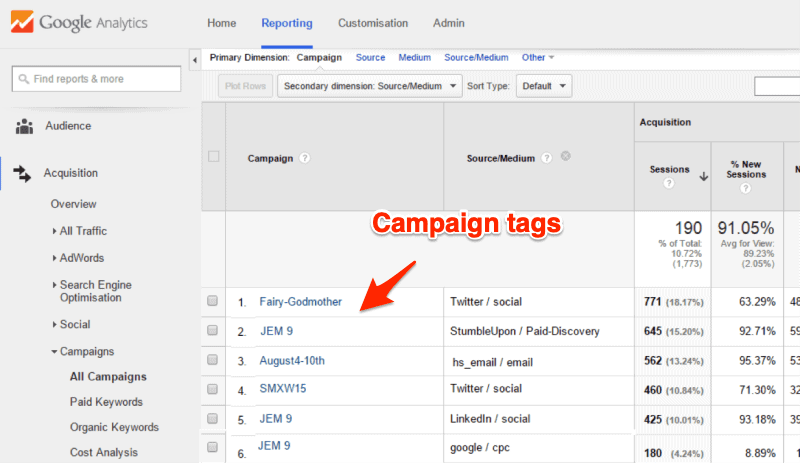 Image source: Marketing Land
This lets you see the performance of traffic to your site from individual posts on Twitter, for example—not just from all traffic coming from Twitter in general.
"You start to see which types of content are interesting, along with which personas are interested based on demographics and trends," Stephens explained. 
The process is a great next step if you're not measuring any kind of ROI from social media today.
Even so, it's largely a manual process to set up and track links using UTM codes. If you're publishing as often as you should be, you'll have to build a new URL for every post. 
In addition to that, you'll still be missing a large chunk of the prospect journey since you'll only see the set goal metrics—often conversions. Any prospect engagement within the social platform is missed, including shares, retweets, comments, and likes.
How to Use a Social Media Management Tool to Connect Google Analytics and Marketing Automation 
Companies that track social media ROI using only Google Analytics often find they're spending a lot of time pulling together data and setting up UTM codes.
When your company gets to that point, there are tools to help you automate the process—including the reporting of data not available using the usual measurement tools we discussed above.
Automate the Publishing of Posts
Social media management platforms will assign a UTM tag automatically to each post as you create it, relieving you of the need to track UTM codes manually.
The top data-driven social media management tools also offer functionality beyond what you can do using Google Analytics. 
For example, Oktopost can display the details of a social media follower that converted to become a qualified prospect or customer, including what posts they've clicked, what post they converted on, and any available demographic information.

Oktopost tracks and reports on the most engaging shared links, hashtags, and keywords, allowing users to see trends not only in engagement but also conversions.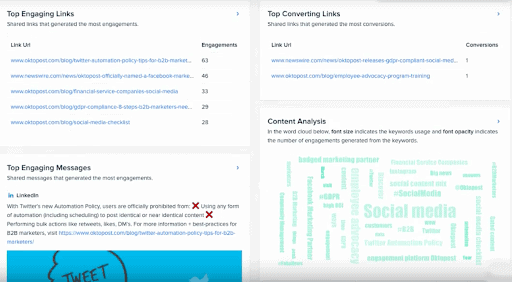 In addition to collecting this data, Oktopost goes a step further than other social media management platforms. 
It allows users to apply that social engagement data to an existing marketing automation journey, because Oktopost is integrated with the largest marketing automation platforms, including Marketo. 
This enables scoring, nurturing, attributing, interacting, and more within the automation platform. This in turn creates a quicker and more robust sales process while also creating a better customer and prospect experience. 
For instance, if someone likes a post about video marketing on LinkedIn, you can assign that prospect 10+ points and add them to a video marketing nurture stream in Marketo. It's all automated. 
That's it for collecting data from the various tools you have at your disposal.
The final step is this: using that information to create a data-driven social media plan based on the results you've collected.
Creating a Data-Driven Social Media Plan From the Analytics Data
Once you start tracking activity and conversions from social media, you'll start to see what's working in your social media efforts—and what isn't.
From here, it's a matter of cutting or changing the posts that don't produce conversions and doing more of what works or shows promise.
Data from the platforms themselves will give you a starting point for tracking the activities of your social media followers. 
Google Analytics will show you what happens to these people once they reach your website, UTM campaign tags will show you the effectiveness of each individual post, and platforms such as Oktopost enable a comprehensive data-driven perspective to guide your strategy for keeping users engaged throughout their customer journey. 
The Benefits of a Comprehensive Data-Driven Social Media Plan
A data-driven social media plan can help you improve performance in a variety of areas in your business:
Increase Current Customer Engagement and Retention
Are you keeping your current customers engaged with your brand? Tracking your customers' engagement with social media can help you understand whether you're posting content that appeals to them.
Qualify Leads and Improve Conversions
As Stephens told us, "If the content team is producing interesting and well-written content, you may get thousands of impressions and thousands of likes, but you may not see conversions. This indicates that, while your content is great, your subject matter may be off, because you're not resonating with your target persona."
When your marketing team has goals of getting qualified leads to your sales team via social media, it's important to know whether your campaigns are reaching the right people. You can dial this in with the analytics from a robust, data-driven social media platform such as Oktopost.
Find Better Job Candidates
For instance, your HR team can gauge whether posts on LinkedIn are appealing to viewers with specific job titles or in a certain region where you're searching for new hires. 
"Think about the cost of the types of services you would seek out from recruiters," Stephens said. "If you use your social networks appropriately, have a strong employee advocacy program, and track your efforts, you could potentially save $100K annually by using your team's existing network, instead of paying a recruiter 20% per hire."
Conclusion
Overall, Stephens explained, a detailed ROI analysis of your data-driven social media strategy will have a direct impact on how to spend your marketing budget. It can help you create and share better content that keeps customers engaged and new visitors converting, and it can make you more effective at gathering and utilizing user data.
"There are so many expensive channels in the average B2B marketing plan, and if organizations really evaluated the power of their existing social media networks, they would see the huge megaphone that isn't likely utilized. Implementing a data-driven social media strategy could completely change their success trajectory, and I would love to see more organizations embrace the opportunity."