Integration Details: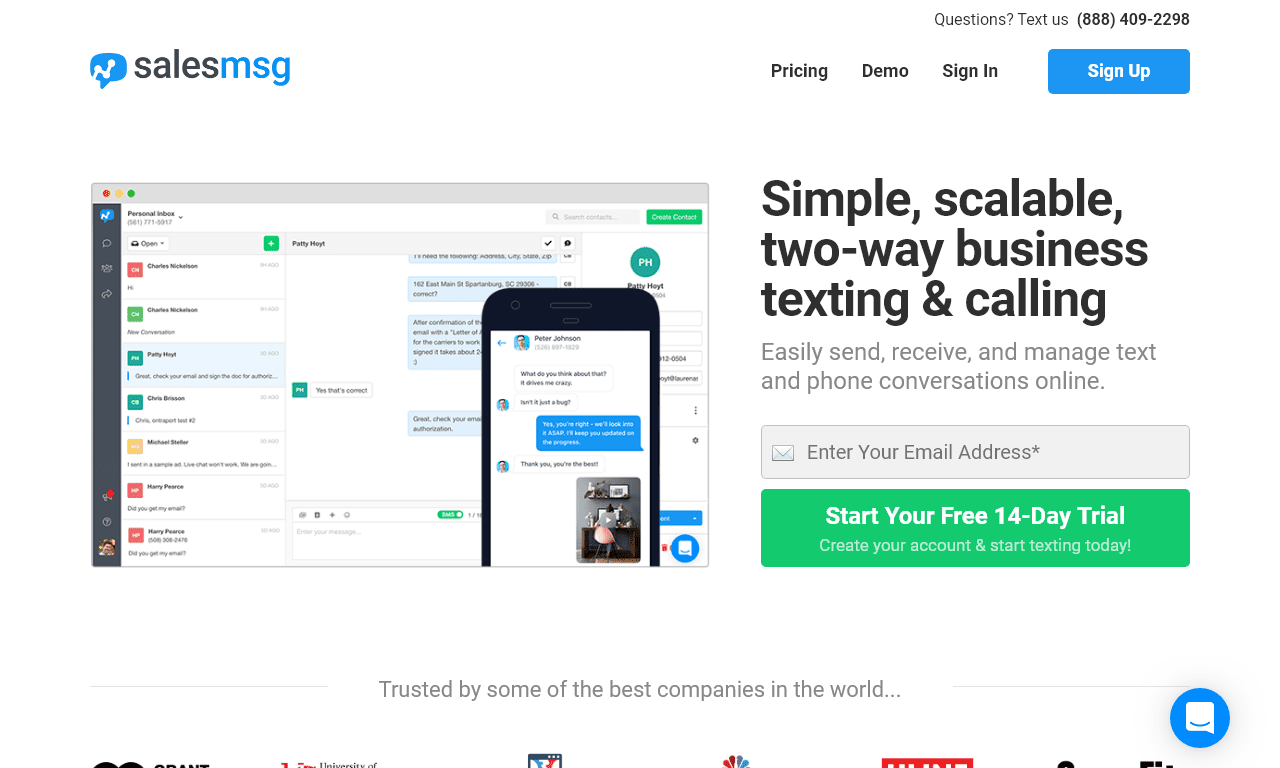 Salesmsg Marketo Integration
Salesmsg gives Marketo businesses and their team members a simple way to send & receive texts, pictures, and calls from your own computer or phone.
About
The Salesmsg Marketo integration makes it easy to send and receive SMS text messages from a computer or on the go using our mobile app to your Marketo leads. Our customers say, "it's like Gmail for text messaging." Most businesses struggle to connect with their leads and customers because these days no one picks up their phone anymore. We hear it all of the time... "I'm calling people, but no one's picking up. I'm leaving voicemails, but no one's returning my calls. I send emails and get little response, but like magic - when I send a text message, I book appointments, schedule demos, and close sales!"
Real-Time Two-Way Business Text Messaging
We now live in a œmessaging world... and we all know it. Yet, while business continues to call, consumers WANT to text. Salesmsg makes it easy for businesses to get with the times, all while being professional and seamlessly integrated with the systems they already use. Because text messaging is so widely used it has become the main way that people communicate. So virtually every business can use Salesmsg to effectively communicate with their leads and customers. The Salesmsg Marketo integration gives Marketo businesses a simple way to have personal real-time text message conversations from their computer or phone.
Send Texts Online From Local Numbers
Stop texting customers from your personal cell phone. Instantly search and secure local, national, and mobile phone numbers with the click of a button to send and receive texts.
Automate Your Personalized Text Messages
Easily integrate text messages into your marketing automation platform to automate your personal text messages to your leads, customers, and clients.
Features
Two-Way Business Texting
Send and receive text messages online from your computer or mobile app.
Salesmsg Marketo Integration
Integrate text messaging into your Marketo campaigns to send SMS and MMS texts automatically to your leads and contacts.
Text Using Real Local Phone Number
Get a new 10-digit local phone number or use an existing landline phone number to text your contacts.
Landline Texting
Let Salesmsg text enable your existing landline phone number so you can start texting using the same phone number you already own.
Call Forwarding
Never miss a call by having Salesmsg forward your calls to another phone line.
Integration
The Salesmsg Marketo integration lets you automate two-way text messages with your leads, prospects, and customers from Smart Campaigns using webhooks. We're here to help you get started and answer any questions you have. Contact our Marketo specialists at [email protected] if you need assistance with the integration and setting up your campaigns. Enable your sales teams to chat directly with their leads for book appointments, schedule demos, and get things done faster.
Contacts
SUPPORT
[email protected]
(561)717-7291
https://help.salesmessage.com/
SALES
[email protected]
(561)717-7291
https://www.SalesMessage.com
Highlights
Send & Receive SMS & MMS
Send Messages From Campaigns
Real Local Phone Numbers
Two-Way Business Texting
Reviews