Pardot and WordPress are two of the most popular platforms—Pardot for its marketing automation tool and WordPress for its content management system (CMS). If you're a user of both platforms, this post is for you! This post explores the top five benefits of using the Pardot WordPress plugin.
With the Pardot WordPress plugin, you can connect your WordPress and Pardot accounts to automate and streamline your content marketing, blog digests, lead generation and management, and email marketing. To install, search for the plugin in WordPress and click 'Install Now':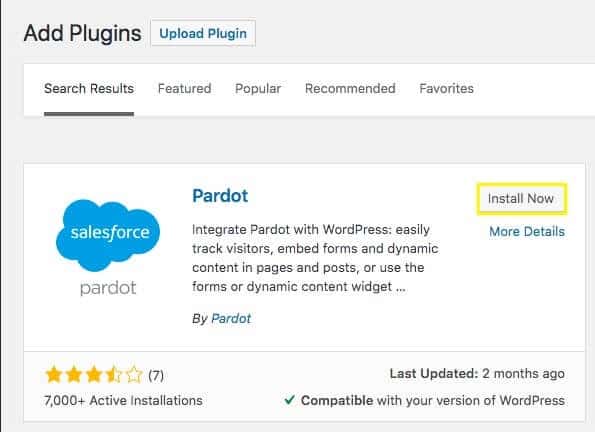 Image via WPengine
When the plugin is activated, a Pardot button is added to both the WordPress Visual Editor toolbar and as a widget. This allows you to insert forms, add content, and set up automated emails. Installation is quick and easy, and no coding is required.
Now that we've gone over how to install the plugin, let's go over some of the benefits of the Pardot WordPress plugin.
5 Benefits of Using the Pardot WordPress Plugin
1. Lead Generation
Pardot's lead generation functionalities offer a host of options that are beyond useful when you integrate with WordPress. Two of the tools—the landing page builder and form builder—are so useful that we've dedicated two sections of this blog to them.
In addition to the landing page builders and form builders, you also have access to social posting and profiling tools. The social posting tool allows you to schedule and post to all of your social channels. The profiling tools help you gain insights from how your followers, leads, and contacts behave and what they respond to.
2. Pardot Forms
Pardot forms are an excellent way to collect information about your website and/or landing page visitors and help convert anonymous site visitors into identified prospects. Pardot forms can be used for a myriad of reasons: for gated content, blog subscriptions, demo requests, etc.
An additional benefit to using the plugin for the forms is the ability to embed them using the WordPress widgets, as well as the ability to insert dynamic content:

Image via WordPress
And if you want to get extra fancy and customizable, you can stylize your forms further with Pardot Form Handlers.
3. Landing Page Builder
Pardot's landing page builder helps you easily build landing pages without the need for a web developer, offering drag and drop templates, stock templates, or importing pre-existing HTML to create your landing page. When you layer in the Pardot WordPress plugin, you're able to integrate them directly into your WordPress site.
Integrating your Pardot landing page directly into your WordPress site is also beneficial when you think about your Google rank. When the landing page is part of your site, Google will be able to index these pages, allowing you to capitalize on being found organically in search results.
Furthermore, when you use the landing page builder with the Pardot WordPress plugin, you'll also be able to easily add in the Pardot forms we discussed above!
4. Automated Emails
Once you've got your lead generation tools in place and landing pages and forms built out, you can now move onto setting up automated emails. You can set up automated emails for auto-responses to inbound inquiries, downloads of gated content, and lead nurturing. By setting up automated emails, you're ensuring regular touchpoints with your prospects, increasing their likelihood to convert.
Lastly, to get even more out of your Pardot WordPress plugin, consider adding in FeedOtter to automate your newsletter and blog digests. This feature allows you to distribute your new WordPress blog posts and published content through personal and curated Pardot newsletters. Setting up this powerful integration takes just minutes and requires no technical experience or email design capabilities. FeedOtter does the heavy lifting allowing you to seamlessly email your content via Pardot.
5. Dynamic Content
Now that you've got your forms, landing pages, and emails set up, integrated, and running smoothly, it's time to think about creating dynamic content. Marketers use dynamic content to create personalized experiences for their website visitors, whether it be showing content relevant to them based on location, job title, demographic, past website interactions, and more.
According to Pardot, with dynamic content, you can display custom HTML on your website or Pardot forms, landing pages, emails—and much more—based on prospect criteria. When your prospect matches the dynamic content criteria, the content they then see varies based on said criteria.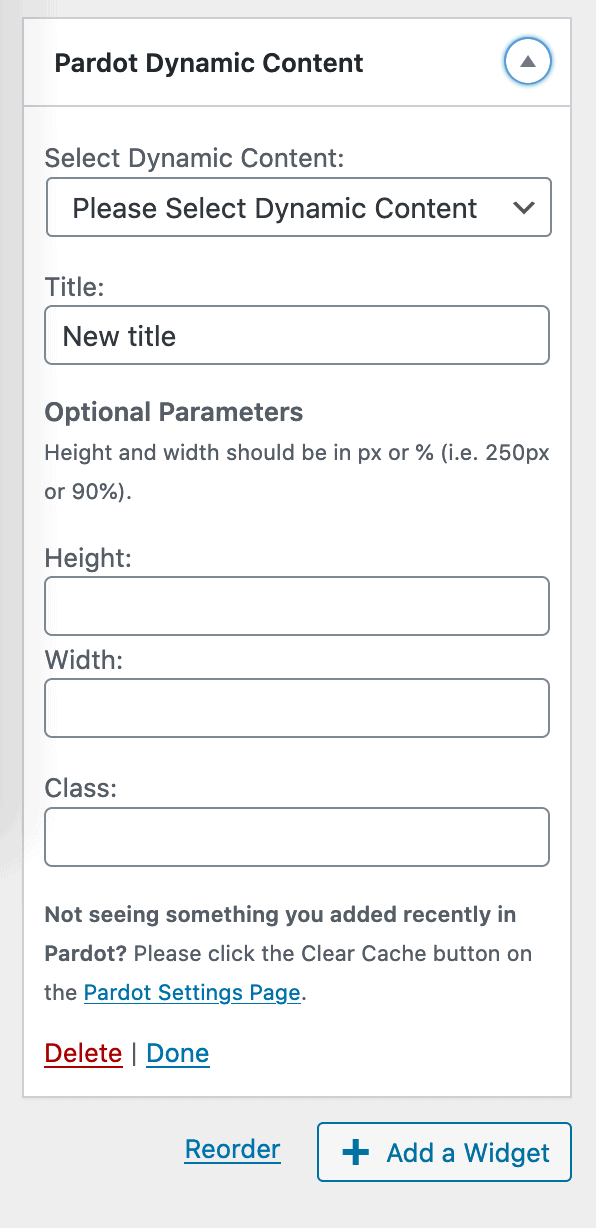 Image via WordPress
The Pardot WordPress plugin is an added benefit here since you'll have the ability to create custom HTML, it allows you to create your Pardot dynamic content directly within your WordPress site, thereby allowing full customization and personalization to ensure your prospects and website visitors are getting the most relevant, on-brand content served to them.
Now that you've learned the benefits of the Pardot WordPress plugin, be sure to check out other Pardot best practices and integrating your Pardot into your social media channels.