M.S. Rau Antiques has been offering rare and important antiques, fine art, and jewelry for over 100 years.
Prices at the store range "from just under a thousand dollars all the way up to millions of dollars," according to Sue Loustalot, the company's website director and a long-time employee.
"Our customers are business owners, executives — people with disposable income," Loustalot added.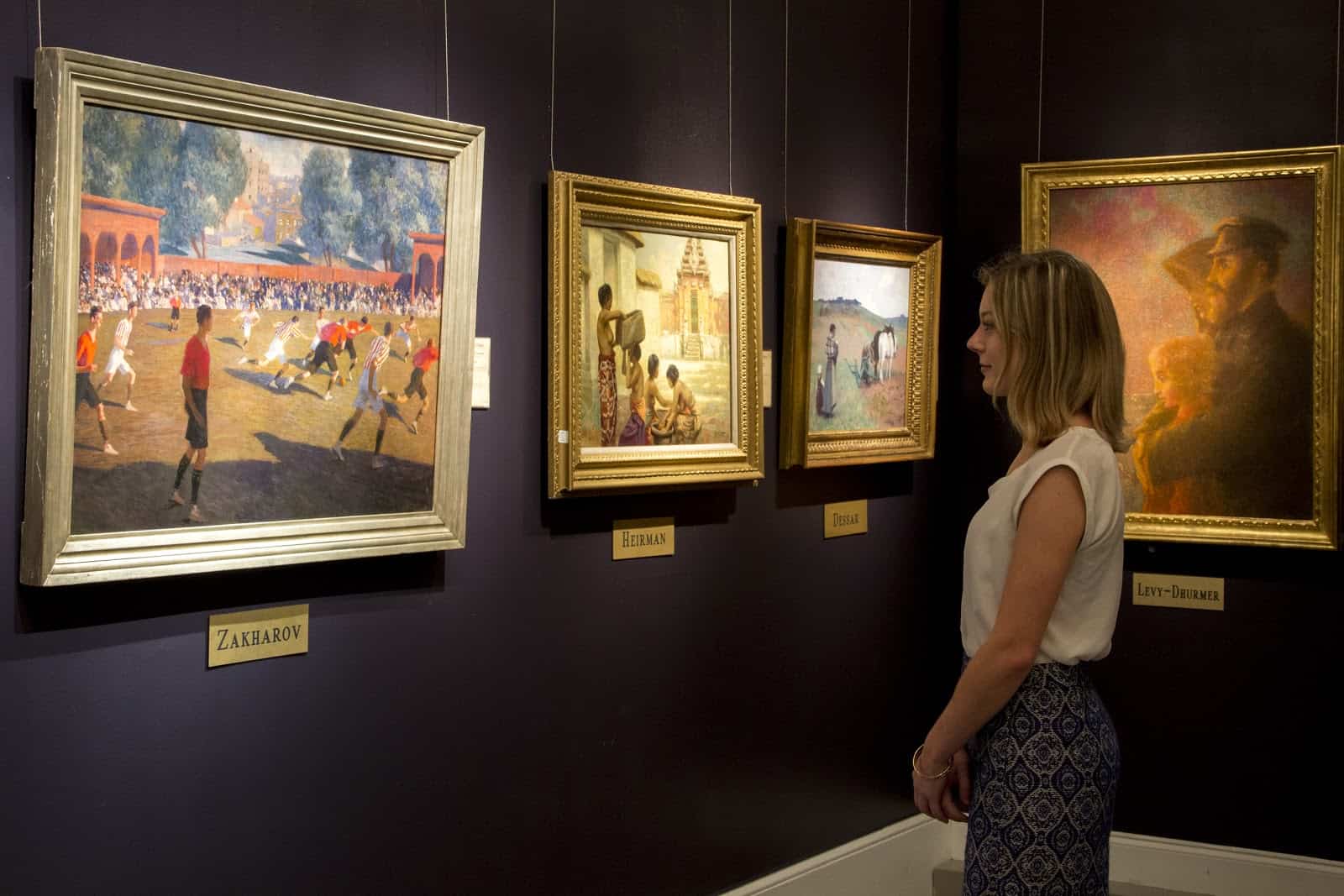 You can say that again.
Note: FeedOtter helps Pardot and Marketo users increase website traffic, blog subscribers, and revenue. Get started for free!
M.S. Rau Antiques' Customer Base
M.S. Rau Antiques' customer base would be the envy of almost any kind of business — not just in the antique market.
They're affluent.
They think of their purchases as investments rather than expenses.
Many are willing to make major purchases sight unseen since many don't live close enough to see the items in person before buying. This is a testament to the trust and integrity that M.S. Rau Antiques has built over the past century.
They also come from all over the world.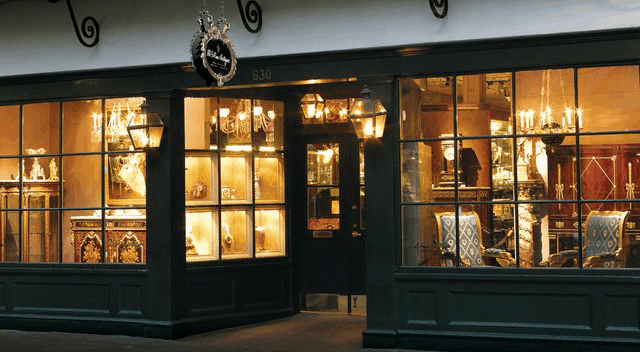 "Only a small percentage of our customer list is from our immediate local area," Loustalot said. "The rest come from across the U.S., but we also have many customers who live in other countries."
No matter what kind of business you're running, affluent clients are great people to have on your customer list.
It begs the question:
How, exactly, does M.S. Rau Antiques acquire clients from this group of people? How does it get people like Arnold Schwarzenegger to stop by their New Orleans gallery, for example?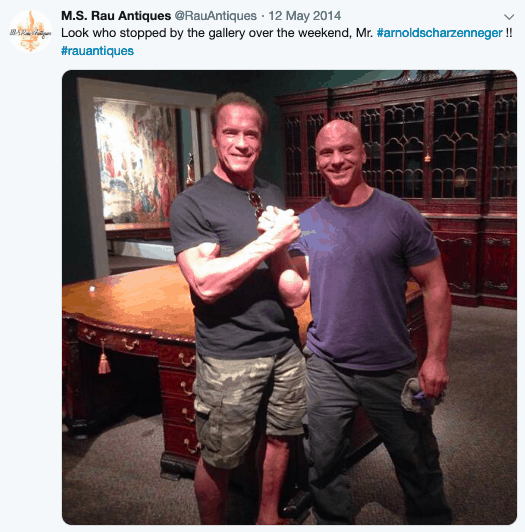 There's the incredible inventory of course. In the world of antiques, every item is an inventory of one.
But, as you'll see in the rest of this article, there's more to it than just acquiring high-end antiques to sell.
M.S. Rau Antiques also has a smart, strategic marketing strategy to drive new customer leads to the sales team — then retain them, with the goal of creating repeat purchases over time.
Acquiring Clients: How M.S. Rau Reaches a Global Audience of Antique Buyers
M.S. Rau Antiques casts a wide net at the proverbial "top of the funnel." This is how it makes connections with new potential buyers all over the world.
"We're doing Google search, digital ads, remarketing, email, social, PR, SEO, magazine and newspaper ads, and catalogs," Loustalot told us. "We advertise in The New York Times, The Wall Street Journal, and other national publications and specialty magazines. Plus we attend many of the major antiques shows and exhibitions around the country."
Broadly, we can categorize the strategies into six categories: gallery exhibitions, local events, print advertising, online advertising, SEO, and social media.
1. Exhibitions
M.S. Rau Antiques participates as an exhibitor at some of the most prestigious art and antiques shows in the country. These include huge, multi-day affairs in cities like New York City, Chicago, Palm Beach, Naples, Aspen, Los Angeles, and Baltimore, just to name a few.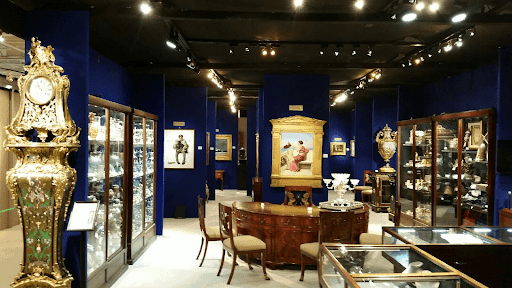 A view of the Dallas Exhibit from M.S. Rau
"You really cannot even fathom how extraordinary these shows are until you attend one," Loustalot said. "They literally build incredible galleries inside of these venues. It's really high end."
"We acquire a lot of new clients through the shows," she added.
2. Local Events
In many ways, M.S. Rau Antiques feels more like a museum than it does an antique store. Except, every item there is for sale.
The store's location in New Orleans' French Quarter — a hot spot for tourists — means there are always new people visiting to see what's on display.
Not all who visit become customers, of course. But some do. And when the store acquires clients, their names and emails go into the store's database for future communications.
Like a museum, the store holds local events and exhibitions, giving both new and existing customers a reason to return to the showroom.
For example, starting in April, the store will present "From Sea to Shining Sea," an exhibition of 200 years of American art.
Admission is free, so it attracts onlookers from all walks of life, including new prospective buyers.
3. Print Ads
M.S. Rau Antiques knows its customer base, and it knows that people who read The New York Times and The Wall Street Journal are often great prospects for their products.
That's why they continue to advertise in newsprint with these more traditional publications.
For example, here's an ad that ran in The Wall Street Journal: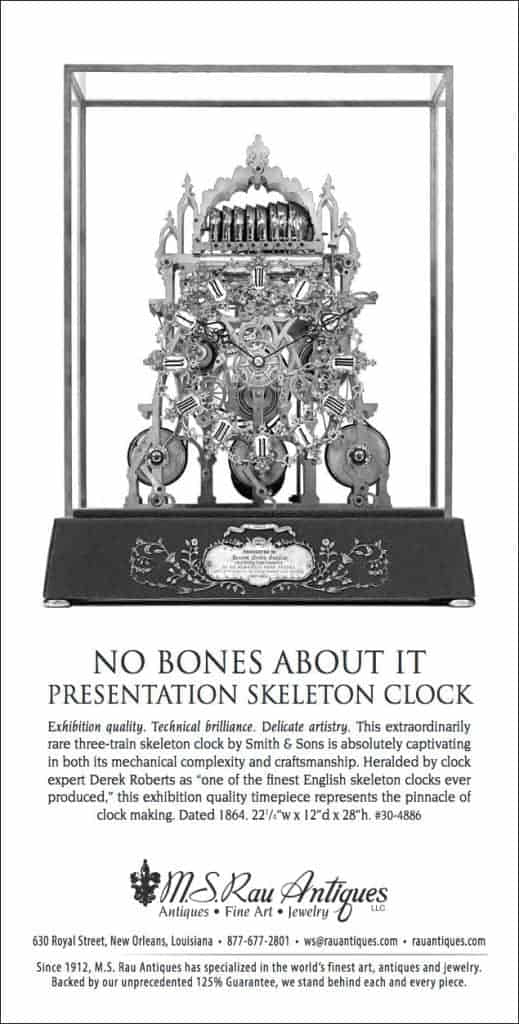 Print ads may not be fashionable among marketers anymore, but — because M.S. Rau's team has a deep knowledge of its audience — print remains a valuable channel for driving awareness.
4. Digital Advertising
Digital ads give M.S. Rau Antiques a tool to reach potential customers both locally and from all over the world.
They bid on keywords for the high end of the antique market, focusing on words that show the searcher's intent is to find exceptional and rare fine art and antiques, not just a local antique market.
They also use branded search terms to ensure anyone searching specifically for M.S. Rau Antiques will find their way to the website: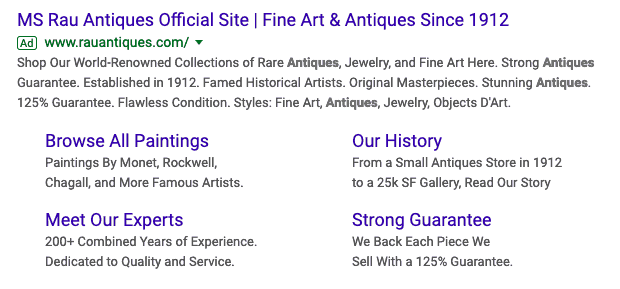 Digital ads like these give the team a broad ability to reach people who are searching for M.S. Rau Antiques or for fine antiques in general — regardless of their location.
5. SEO and Content Marketing
About a year ago, M.S. Rau Antiques began an effort to improve its results from content marketing and SEO.
It worked with an outside agency to optimize their blog and many of their product pages for search.
The results have been impressive.
"We have seen a 65% increase in organic search traffic since Feb 1, 2018," Loustalot said.
Year over year traffic comparisons is even more impressive.
"In January and February of 2018, we had about 9,000 views to the blog," Loustalot told us. "This year over the same two months, we had 23,790 unique views to the blog.
"The majority of that increase is coming from search traffic," she added.
As with its efforts in digital advertising, the team focused on search terms that were likely to be from individuals searching for fine and rare antiques.
That too has worked well. The site now ranks well for many search terms related to "fine" and "rare" antiques, regardless of the location of the searcher.
6. Social Media
Images of M.S. Rau's inventory are extremely attractive to potential buyers, making its social media pages a great place to show off what's new and happening at the store.
M.S. Rau Antiques maintains active outposts on Instagram, Facebook, Twitter, Pinterest, YouTube, and LinkedIn.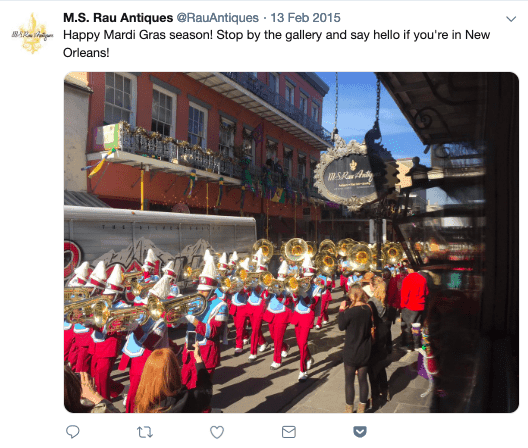 Engagement: The Saturday Weekly Newsletter
At the top of the funnel, M.S. Rau Antiques goes broad — using a wide variety of strategies to connect with new prospective buyers.
Once they're connected, though, the email newsletter is the No. 1 channel to keep people in the know about what's new at the store.
At all events and on the website, prospects are encouraged to sign up for the M.S. Rau Antiques newsletter, a weekly email that goes out on Saturdays.
New buyers are also added to the list and tagged with data about their interests in the store's database.
In stark contrast to the many studies that recommend sending emails during the week, Loustalot chooses to send M.S. Rau's emails on Saturdays.
"We've tested it," Loustalot said. "I know it bucks the trends, but that's when we get the best results."
Subscribers receive a variety of content, including blog posts, new inventory, and information about any upcoming events.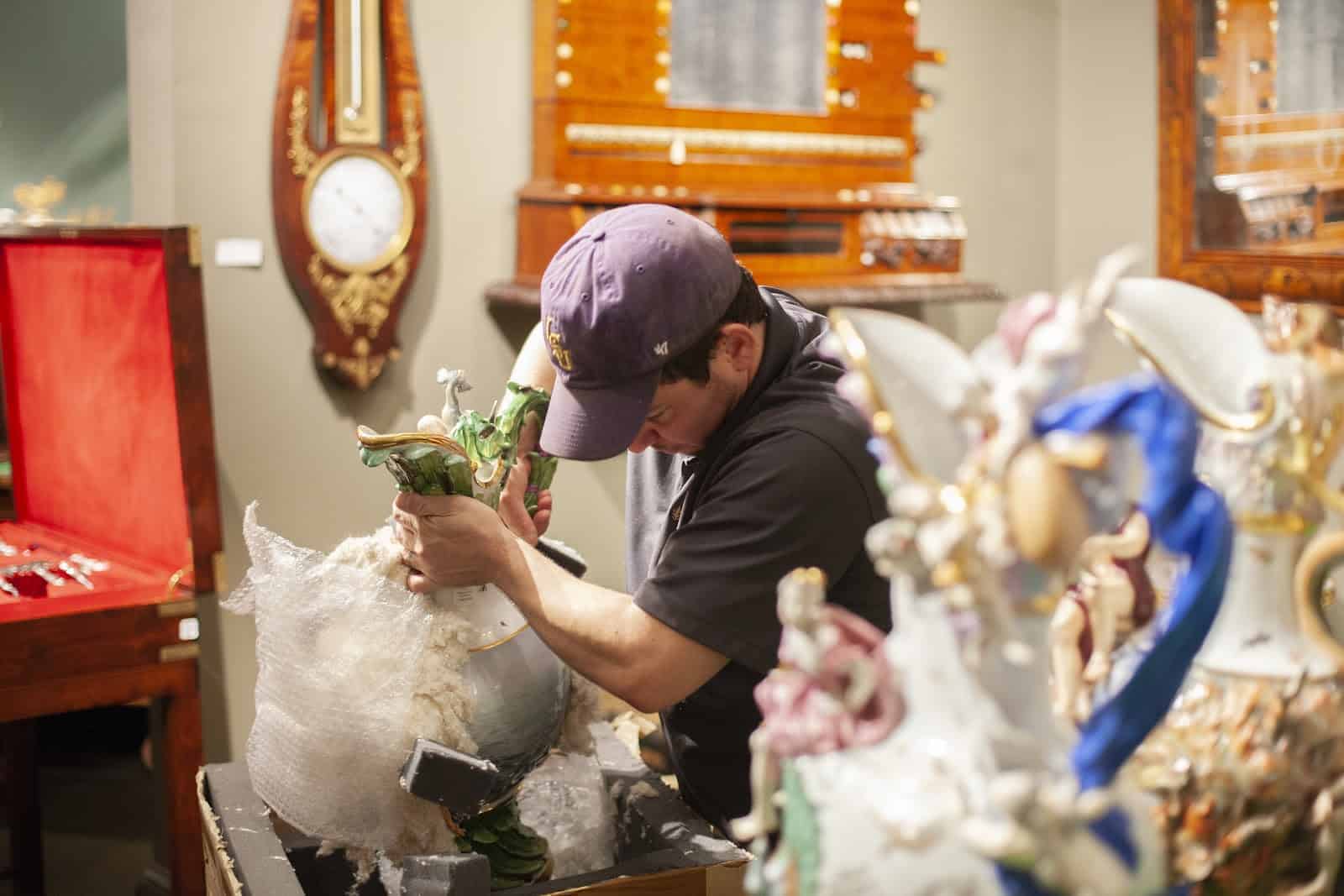 Loustalot spends a couple of days a week putting together the newsletter to ensure it includes a strategic mix of content and promotional materials.
The list has grown steadily over the years, currently standing at just over 27,000 individuals. It's a regular source of leads for the store's sales team — especially when it includes announcements of new acquisitions. M.S. Rau Antiques has a strict policy that they never share their email list with anyone — no exceptions.
Speaking of new acquisitions, about a year ago, Loustalot and the team added a new email list: one targeted especially for those who requested a weekly update on all recently acquired items.
Activation: The Recent Acquisitions List
The new acquisitions email is a relatively new initiative for M.S. Rau Antiques — but one that has grown every week since its launch last year.
Subscribers to the main newsletter are offered a chance to sign up for the new acquisitions list within the newsletter. Visitors to the website can also subscribe to this targeted list.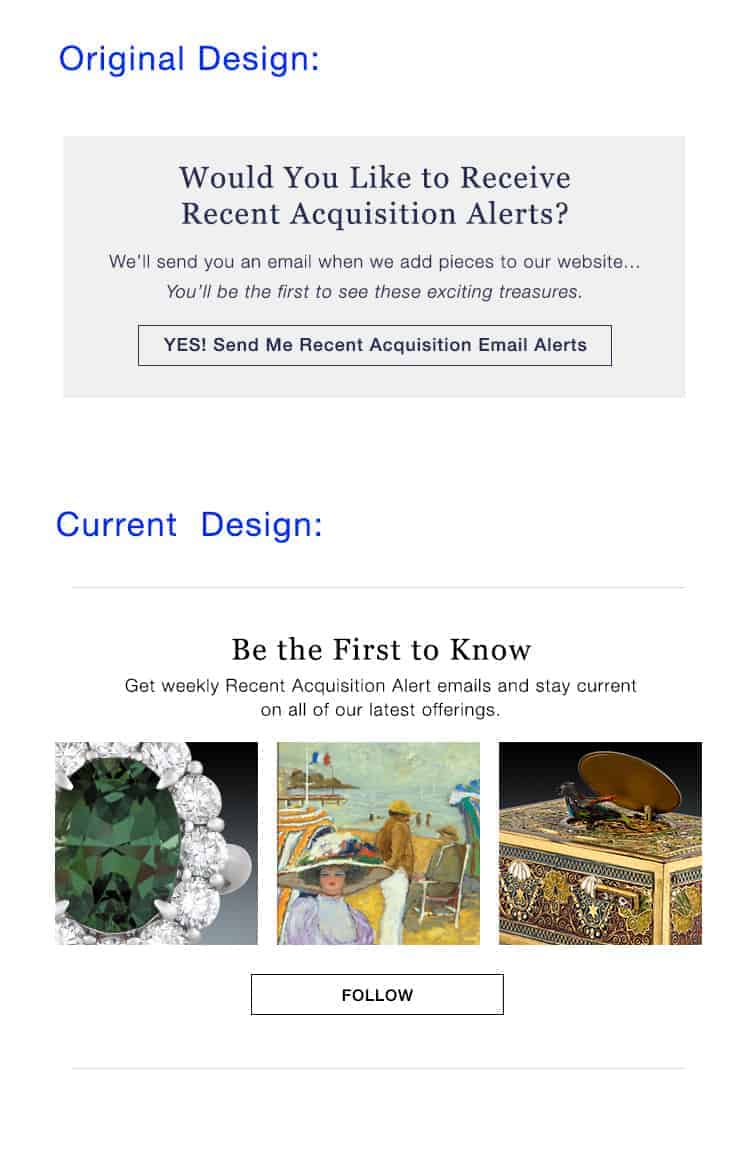 At present, there are over 1,300 people who've signed up for the list, and they are significantly more engaged than the average newsletter subscriber.
"The open rate on the new acquisitions list is generally in the 50 percent range," Loustalot said, "and the click-to-open rate is generally in the 30-plus percent range."
Both numbers are higher than the weekly newsletter engagement rates.
The addition of this newsletter for M.S. Rau Antiques' best customers could easily have been a significant administrative headache for Loustalot and the team. It already takes one to two days a week preparing the weekly newsletter for the broader list.
The new acquisitions email is much easier to manage, however, since it's created by simply populating the message through FeedOtter.
Instead of adding a lot of new content, FeedOtter grabs the latest 10 acquisitions from M.S. Rau's data feed and populates the email. Loustalot receives a test email the morning of the send and makes any necessary changes and sends the email. The process takes under an hour in total.
In that way, the store is able to quickly provide its most engaged customers with the updates they want the most: news about the latest products they might be able to acquire.
Special Interests: Custom Lists for Sales Reps
Finally, by tapping into the broader M.S. Rau Antiques database, sales consultants can pull custom lists of one to 100 or so customers who have shown interest in a specific type of product.
Fine art buyers, for example, might get a custom email from a sales consultant in this way. Or the consultant might create an email specifically for customers who've previously purchased a piece of jewelry.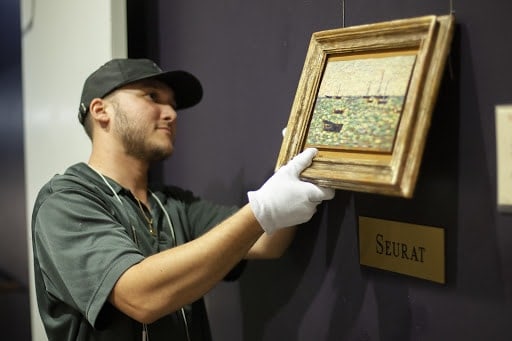 This is the final, most customized messaging done by the team, hyper-targeting customers based on data the store already has on file.
Engagement rates for these emails vary widely based on the type of information being shared. A rare item announcement, for example, always gets the best response.
But in general, no other emails get better engagement than these hyper-targeted messages.
Acquire Clients at Every Stage of the Buying Cycle
In total, M.S. Rau's marketing strategy is to connect with new potential buyers, engage them, convert them, and then keep them engaged to set up repeat purchases in the future.
It's a mix of tactics, one that includes everything from traditional print ads in The New York Times to custom email lists built through data mining.
Loustalot does not claim their efforts to design marketing that will achieve these goals are complete — far from it, in fact.
"We would love to automate email lists to target people even better than we do now, to send people even more of the things they are interested in," she said.
And the team is working on that: They're searching for new ways to dynamically include content that matches the interests of individual people on the mailing list.
It is this choice — to always seek better results — that's helping this century-old business continue to develop its reputation, its reach, and its customer base.
Note: Are you using Pardot or Marketo and want more traffic, attention, and sales leads from your content? FeedOtter can help!